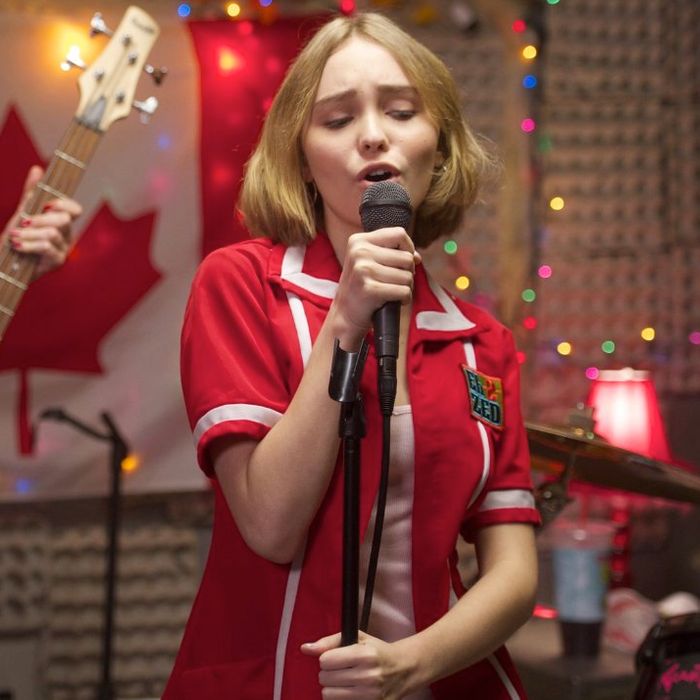 Yoga Hosers.
Photo: SModcast Pictures
At the Sundance Film Festival, as the lights go down and the projector comes on, you truly don't know what you're going to get. In part, this is because Sundance premieres most of its films before the studios have bought them and waged multi-million-dollar ad campaigns that tell you every little thing about a movie before you've had the chance to see it. But it's also because at Sundance, the films are likely to show you things you've never seen before: gross things, shocking things, emotional things, and things that get everyone talking. Here are 13 movie moments where you could almost feel the collective audience WTF as something startling unspooled onscreen.
The attack of the Brat-zis in Yoga Hosers
In Kevin Smith's Yoga Hosers, an army of footlong sentient Canadian Nazi bratwurst (called Brat-zis), decked out in Mountie uniforms and pointed German helmets, attacks the denizens of a convenience store — including two teenage rockers named Colleen (seen above, and played by Lily-Rose Depp and Smith's daughter, Harley Quinn Smith). The Brat-zis' preferred method of killing? Using their helmets to go up their victims' rectums, naturally. They are played by Kevin Smith himself, who shaved off his signature beard for the role.
Daniel Radcliffe is a farting Jet Ski in Swiss Army Man
If Daniel Radcliffe's corpse washed up onshore, you'd probably be bereft, right? One of our most appealing actors, struck down in his prime! But Swiss Army Man's Paul Dano doesn't spend much time grieving the death of Harry Potter: Instead, he rides that corpse across the ocean like a fart-powered Jet Ski, plays dress-up with it and role-plays elaborate dates, and uses Radcliffe's postmortem boner as a compass that can point the way back to civilization. Just a really normal movie, this one.
Dana Brody does coke off Justin Bartha's erection in White Girl
Morgan Saylor had her fair share of problems as Brody's daughter on Homeland, but they're nothing compared to the drug-fueled shenanigans she gets into in the film White Girl, where her libidinous college student screws, snorts, and flirts her way through Brooklyn and barely lives to tell the tale. Ostensibly, she's got a job interning for magazine-editor creep Justin Bartha, but once she sprinkles some coke on his eagerly proffered member, you'll be wondering what sort of college credit this internship is really good for.
Anthony Weiner and Huma Abedin allow a camera to capture them in Weiner
The most salient question of this astounding film, which won the U.S. Documentary Grand Jury Prize, comes at the end: "Why have you let me film this?" It's what director Josh Kriegman (who made the film with Elyse Steinberg) asks failed New York City mayoral candidate Anthony Weiner after a second sexting scandal puts the nail in the coffin of his career, a political demise we witness in real time. We're with Weiner as he discusses the timeline of his sexts with his wife, top Hillary Clinton aide Huma Abedin, and how they align with her debate over whether to leave him. We're there as he can't stop watching an out-of-control video clip of his appearance on a cable-news show (as a mortified Abedin rubs her temples and wonders why in the world he is laughing). And we're there as Weiner attempts to outrace Sydney Leathers, a 23-year-old with whom Weiner exchanged explicit texts, by ducking through a McDonald's to avoid her on the way to his concession speech. The biggest WTF is that the movie exists at all, but oh, what a gift it is.
The car-wash scenes in The Greasy Strangler
In this bonkers film, septuagenarian Big Ronnie (Michael St. Michaels) lives with his virginal 40-something son, Big Brayden (Sky Elobar), by day … but by night, he disguises himself to become the Greasy Strangler. This bizarro serial killer strangles victims, sometimes eats their eyeballs, and then cleans the evidence off himself at a car wash (the oft-repeated image of Big Ronnie's naked body getting slapped by motorized rubber strips as his gigantic, red-tipped penis hangs between his legs is not one you'll easily forget). The entire endeavor is insane, from Big Ronnie's bell-bottomed disco jumpsuit with a front cutout for his giant penis, to the hilariously prolonged monologues the Greasy Strangler's victims give in the throes of death. Also odd: Elijah Wood produced it. Bring the kids!
James Franco goes nuts in Goat
For a Franco-produced drama about frat hazing starring pop pinup Nick Jonas, Goat goes awfully light on the homoeroticism that is both men's stock-in-trade. Still, once Franco makes his inevitable cameo as an alum who comes back to college to party with his old bros, things get amped up to 11, fast: Franco chugs like a champ, tears his shirt off, slaps one of the new pledges, and orders the poor guy to punch him in the stomach. It's the most unhinged he's been since Spring Breakers.
Courtney Love politely interrupts a phone call to do drugs in Author: The JT LeRoy Story
In this documentary about an infamous literary hoax, we learn that Laura Albert, the real author behind the fictitious teen-punk writer JT LeRoy, taped many of her phone calls with the celebrities who came calling after LeRoy's work broke through. Among them was Courtney Love, and at one point in the documentary, we hear Love excusing herself from a phone conversation to go finish off a small line of coke. It'd be impolite coming from anyone else.
A Speedo-wearing megalomaniac leads 150 cult followers in Holy Hell
A documentary made up of 22 years of footage captured from inside a cult, directed by former disciple Will Allen, Holy Hell centers on a spiritual leader named Michel who promises his followers a utopia in which they can change their names to avoid their pasts, do a lot of dancing in woods and lakes, and meet God in a ceremony called "the Knowing." Soon the besotted masses are carrying a throne for Michel to sit on wherever he goes — and no matter where he's going, he's usually stripped down to just a Speedo. (Did we mention that Michel is a ballet dancer and former gay-porn actor?) Farce turns to nightmare, though, as Michel's controlling nature grows more severe: He gets aggressive plastic surgery and encourages disciples to do the same, orders his female followers to get abortions, and sexually abuses much of his congregation. The festival purposefully didn't release Allen's name in the program for safety reasons, and we heard that Michel himself had sent spies to several screenings.
The bride buy in Sonita
Winner of both the World Documentary Grand Jury Prize and Audience Award, this film is at first the wrenching story of a teenage Afghan refugee, Sonita, who lives in Tehran and expresses her terror over the fate of her people through rap — even though it is illegal in both Afghanistan and Iran for women to sing. Then, midway through the movie, her mother shows up to sell Sonita to a stranger back home for $9,000, a sum that will pay for Sonita's brother to buy his own bride. In a controversial move, filmmaker Rokhsareh Ghaemmaghami steps out from behind the camera, pays $2,000 to stall Sonita's mother, and then helps her record an emotional rap video about her frustrations and terror that changes the young woman's life.
Pretty much all of The Eyes of My Mother
In this disturbing, arty thriller, a young girl witnesses her mother's death at the hands of a strange, psychotic man. After her father nearly kills the man, they hang the psycho by some chains in the barn. The girl feeds him and keeps him captive for years, chained and unable to speak. Oh, and she considers him her only friend. Heartwarming!
 
Logan Lerman and Tracy Letts have a showstopping conversation in Indignation
James Schamus's adaptation of this novella by Philip Roth, about a young Jewish college student's obsession with a troubled young woman in 1951, is an elegantly mounted, old-fashioned and well-proportioned period piece … except for one scene, when our young hero, Marcus (Logan Lerman), is invited into the office of the college dean (played by a wonderful Tracy Letts). Their conversation begins with the dean questioning Marcus's religion and asking how he's adjusting to college life, then slowly turns into an intense, extended philosophical debate about religion, conformity, language, girls, love, more religion, and more girls, until it's eaten up an ungodly amount of screen time. (It clocks in at about 15 minutes — already an eternity for a dialogue scene between two people in one room in a conventional film — but it feels like half an hour.) The scene is so wild that it prompted spontaneous, sustained applause at the film's premiere.
The canine indignities of Wiener-Dog
The conceit could easily be that of a live-action Disney movie — a series of short vignettes reveals the impact a sweet female dachshund has on her lonely, sad, and lovelorn owners — until you find out it's a movie directed by Todd Solondz, at which point any hope you had of decency is likely stripped away. In its place are 90 minutes of excruciating meditations on loss, death (a sweet young boy who has survived cancer is told that his dog was probably cremated), more loss and death (a not-so-sweet old lady sees her beloved dog squashed to bits by a seemingly endless parade of cars), and, most trenchant of all, Solondz's disillusionment with Hollywood (a depressed screenwriter straps a bomb to his wiener dog and blows up his film school). Thanks, Todd, for keeping it real!
Natasha Lyonne has the grossest birth ever in Antibirth
A lot of weird shit starts happening to Lyonne's Antibirth character, Lou, after she blacks out at a warehouse rager in her desolate trailer-park town and wakes up with her "titties hurting." Medically speaking, she can't be pregnant, but she's exhibiting all the signs, along with pus-filled feet and the grossest distended belly you've ever seen. But of all the things in this movie that might make you upchuck, it's probably the part where [SPOILER ALERT] she gives birth to a full-grown, snarling, humanlike head, followed by his headless, man-size body, which follows instinct and protects its mama. "That is actually what I feel like actual childbirth is like," Lyonne told Vulture. "Ahhhh!!! This 18-year-old, six-foot creature just came out of me. I'm not taking care of this thing! But that's just me."