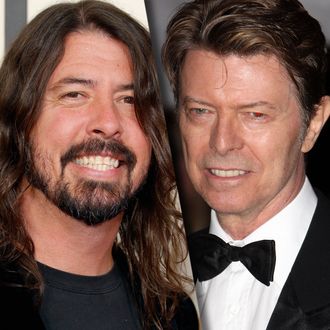 David Bowie couldn't actually be your hero.
Photo: Getty Images
If there's one thing we've learned about David Bowie since his passing, it's that the man perfected the art of rejection. Coldplay's Jonny Buckland and Will Champion, Red Hot Chili Peppers' Anthony Kiedis, and U2's Bono have all shared their horror stories about Bowie's harsh critiques and refusals to collaborate, and now Foo Fighters' Dave Grohl tells his. While touring some of Bowie's favorite spots in L.A. with Pat Smear, Grohl remembered a time when he approached Bowie to sing on a song he'd written for a film (which he doesn't name) two years ago. Bowie, in typically real form, sent him a brutally honest and formal response: "David, I watched the movie and I got to be honest, it's not my thing … I'm not made for these times. So thanks, but I think I'm gonna sit this one out." Grohl says he sent Bowie an understanding email, but got back a very particular Bowie brand of British humor in return: "Alright, well that's settled, then. Now fuck off."
Too often tone gets misread over email, and Grohl wasn't sure if Bowie was kidding, so he sent a half-joking reply that he'd have to wait to see Bowie in another 16 years, referencing the last time they'd seen each other, at Bowie's 50th birthday in Madison Square Garden in 1997. Sadly for Grohl, Bowie's jokes, however dark, are better: "Don't hold your breath. … No more birthdays, I've run out of them … But that was a really fun night, wasn't it." So if you've ever been personally burned by Bowie, just know you're in the good company of a few rock gods.