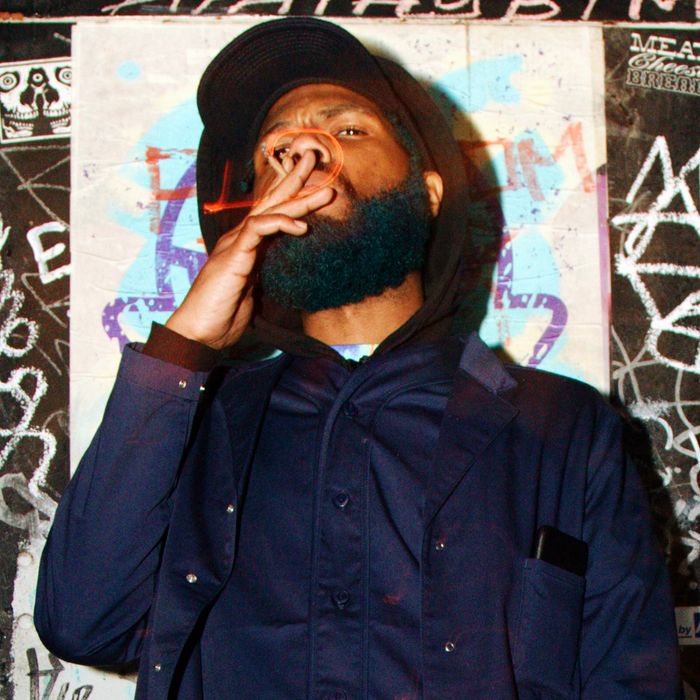 Over the winter holidays in 2008, a mixtape titled The 808 Experiment Vol. 1 was released. A compilation featuring local Atlanta rappers and producers — brought together by creative collective SMKA — the project was a big deal in my circle. One of those reasons: Two of the members of the collective were very close friends of mine from high school, so whether or not I liked the mixtape, I was going to be more familiar with it than I ever dreamed possible.
Like many first stabs at anything, the tape had high points and low points. The highs, however, were genuinely good. After a few listens, I found four tracks that I liked and exclusively listened to those. One of those was a song called "Fire in the Hole," a doozy of a song due to the jazz-piano backing. The keys are what made it initially stand out, but the first verse was by a rapper named Rome Fortune (whose debut album, Jerome Raheem Fortune, is out today). I loved the verse. I loved the fact he called himself "the sphinx of the ATL," and that he'd "victory lap the stadium, even though we're visiting."
One of the great things about the mixtape (and the following volumes) was that each rapper's face was on the cover. Rome was wearing a plaid shirt and a fedora, with a crooked smile and eyes mostly closed. It was goofy, and hilariously low-res, but it made me like him even more. After a few months of listening to the song, however, it was replaced by new songs, because that's how it works. The same went for him, once firmly my "rapper of the moment" and then quickly relegated to the abyss of "I know your name and if I see it pop up I'm going to check it out but don't expect me to stay invested just because, who do you think I am?" Even though, over the years, I knew Rome was finding real success, and that I had friends that swore by him, and that I'd even seen him around New York, existing in the hybrid collision of worlds that is downtown hip-hop and fashion, I never really fully caught myself up.
A little over seven years after hearing him rap for the first time, the 27-year-old Rome Fortune walked into my apartment in Brooklyn. It was 11 a.m. on February 10 and for some reason, nothing about this seemed odd, down to the fact that I didn't even pretend to clean my apartment or straighten things up. Here he was, on my couch, with his signature look for the past few years, a long beard that fluctuates between greenish and blueish. Today it was blue.
The way we'd gotten to this point was perfect, because things never come together like this — it was less like doing a story on a rapper and more scheduling drinks with a friend who was in town. Instead of coordinating step-by-step with his team, we found ourselves texting each other. Conveniently, he happened to be staying about six blocks away from where I live, so he casually did the morning stroll with ease. And five minutes after he got to my apartment, we were already playing music videos on the TV through the Chromecast, starting with "Mamacita" by Travis Scott, Rich Homie Quan, and Young Thug, followed by a series of other Young Thug videos.
His outfit looked comfortable. He was wearing one of those matching sweatsuits, an olive-green one that said "RAW." He was in town for New York Fashion Week, to walk in the VFILES runway show and then perform at their after-party, all a lead-up to his debut, released on Fool's Gold Records. Because of that, I expected some cool-kid fashion outfit, something that screamed new money. Instead, I got a very relaxed Rome, in that "RAW" sweatsuit, a brown jacket, and some kicks. Don't get me wrong, he looked great, but I had to assume this was just his bodega fare.
About half an hour in, I realized I should probably begin to formulate a plan for what our day would be. Yes, we were going to spend the entire day together, at some point before the runway heading into Manhattan to do some shopping. Before I could ask him what he wanted to do, he asked if he had time to go get some weed. He obviously did have time, so he ran back to his temporary residence. While he was gone, I considered cleaning up. But then I didn't. I also expected this quick trip to take an hour minimum, assuming he'd need time to change into his "Manhattan" wear.
Rome was back in less than 30, weed in tow, outfit unchanged. I loved it. His attire was helping to ease my own anxiety about how to dress for the night's runway show — my first fashion show.
"What should I wear tonight?" I eventually asked Rome, slightly embarrassed, as we were both back on the couch. "I was thinking the same thing man," he said. "This is my first fashion show, too."
This was going to be a great day. Two goofy ATLiens in New York, trying to fool people into believing we're old pros.
We hopped on the L train and then walked down to Soho. He's a recognizable figure, if you know who he is, but he exudes more normalcy than famous-person vibes. And he seemed to really enjoy that, existing in plain sight, without being interrupted. Our destination was Opening Ceremony, though, and once we walked in, Rome's world changed. Damn near every person that worked in the store knew him. I could tell Rome loved fashion, and Rome cared about fashion. There was a clear difference between myself, wandering around the store like it was Marshall's, and him, walking around like he was in an art gallery. Feeling no need to cramp him, I posted up on the side, charging my phone, watching as people began to come to the store just to say hey.
In the middle of the store, a group of five stood and talked, Rome included. I walked over, he introduced me, and they talked about the VFILES show that was happening in a few hours. One of the guys was wearing that Leopard North Face that Drake wore in "The Motto" video. That was cool. Overall, everyone else was wearing things that looked expensive, and I'm sure were expensive. When my eyes made their way back to Rome, however, I finally looked at his outfit. Like, actually looked. And for the first time, I did a real zoom-in on what he was wearing.
What I thought was just a casual outfit most certainly was not. The sneakers, Saint Laurent. The "RAW" on the sweat suit, G Star RAW, as was the brown bomber jacket. It still may have been a casual outfit, but it wasn't just hand-me-downs, he was wearing my February rent. And I respected that.
After looking at almost every piece of clothing in the store, Rome found a pair of amazingly loud red pants to try on. I was certain he'd get them, because they were loud and he could pull them off, the man walking around New York City with a blue beard. Ten minutes later, he came out of the fitting room, shaking his head disapprovingly.
"They don't have back pockets. Can't do it."
These were the practical fashion stances I could get behind. I was so pumped he was leaving empty-handed, on those grounds.
He needed to head back to Brooklyn, to get changed, so he could be back in Manhattan in time for his runway call time. The crew of guys we were with walked with us for a few blocks, one of the men announcing to Rome that he was about to have a kid. Rome, well over six feet tall, grabbed his friend by the shoulders in a big brotherly way, congratulating him but also geeked to start giving advice. Rome has two kids of his own and loved talking about fatherhood to his friend. It was fun to see him in yet another speed, again this guy who I thought had a good verse on an underground mixtape seven years ago who was hours away from walking in a fashion show, only two weeks from releasing a long-awaited debut album. Life was funny.
–
It's 1 a.m. I've been at 1Oak for 90 minutes, and all I want to do is not be at 1Oak at 1 a.m. The evening portion of my day shadowing Rome has been an eventful one. I arrived at the VFiles fashion show at Spring Studios, hilariously finding myself positioned 20 feet behind Kylie Jenner, who instantly became the star of the show. I saw Rome walk, and for a moment had a very internal Mama Klump "Hercules, Hercules" moment. I stood there as Tyga was announced as the "surprise" musical guest of the evening, making me question why I'd come here tonight, or even just become a journalist in general. The fashion show was the beginning of a night Rome and I would spend briefly checking in with each other, and then getting separated again. I preferred it this way, however — we were both having our own nights — but we both articulated that we wanted our paths to cross, and cross often, and cross as late into the night as possible.
At 1Oak, he and rapper Lil Uzi Vert performed. Strolling into the club, looking like the star high-school quarterback's math tutor, I was very eager to find Rome. When I did, we talked for about two minutes, but the music was so loud we had to text. There were rumors of other moves that night, maybe a Kanye thing, maybe something else. Whatever it was, I just told him not to go without me, and he agreed.
I was also reminded of what he said on my couch, earlier that morning. "I'm not a super-crazy partier, anymore." That morning, I was thinking about shenanigans for the story and was hoping he'd take a detour from that for one night. Fifteen minutes into my time at 1Oak, however, I was really hoping this would ring true.
At 1 a.m., I texted Rome because I hadn't seen him in about half an hour. Finally, a response — "Heading back to willyb, meet me there slimeeee." It was the most gorgeous thing I'd ever read. I didn't care he'd broken our blood-oath travel pact, he'd made a glorious executive decision. And I didn't care how the night turned out, I was going to be close to my house, and not in a club in the meatpacking.
Places to meet up were being thrown out by Rome, in that frantic way where you're trying to hold on to the night, even though you don't really know why you're trying to hold on to the night, but you do anyway because there's still night left. But before I even made it to Brooklyn, I got the final text. He was calling it a night. We were both clearly in that "we're too old for this shit" state, and I excitedly let him know that I wasn't disappointed, this was exactly how this night should end. The culmination of a day (and years) being in this peripheral orbit of Rome Fortune never was supposed to end in pomp and circumstance, at 6 a.m. on some rooftop with famous people and vices galore. It was clearly supposed to end with "hey, man, let's just get up tomorrow."