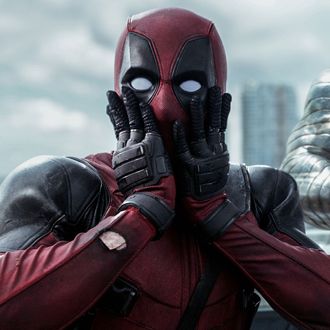 Photo: Courtesy Twentieth Century Fox/Marvel/Twentieth Century Fox Film Corporation.
Green Lantern sure feels like a long time ago.
Ryan Reynolds's return to superhero movies, Deadpool, could break 50 Shades of Grey's record for the biggest Presidents Day opening weekend, according to Variety.
Estimates are pegging the Uzbekistan-banned, hard-R, meta-actioner at $80-90 million after it debuted to $12.7 million during its Thursday night screenings, a new high for an R-rated film in that frame. Those predictions put 50 Shades' $93 million record within striking distance, and they're a huge step up from Fox's early expectations, which were just $60-65 million.
Such a debut would put it well ahead of the last superhero movie to come out, Ant-Man, which earned $57.2 million (albeit with a three-day opening weekend; Deadpool's tally will count ticket sales on Presidents Day, too). The big difference between Deadpool and Ant-Man, though? The Fox film cost just $58 million, less than half of the Marvel movie's $130 million. Happy holiday weekend, Reynolds.