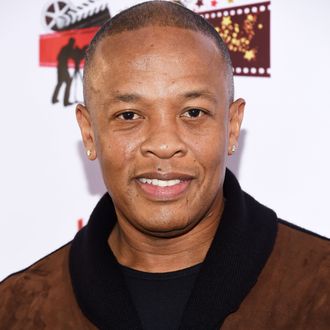 Sure, why not.
Photo: Amanda Edwards/Getty Images
Straight Outta Compton was a helluva film, but man, did it end on a frustrating cliff-hanger. Dr. Dre just walked out on Suge Knight and Death Row! That's it — the film literally ends with him walking out the door. Did he go for a jog? Was he followed? We may never know what happened to Dr. Dre, except — oh wait, we definitely do, because now we know he's a multimillionaire running Apple Music, on top of producing the most successful music biopic of all time. NBD. But just in case you also needed a scripted version of his current life, according to The Hollywood Reporter, he's set to produce and star in Vital Signs, Apple's first scripted-TV series all about Dr. Dre and his emotional state.
And like the depiction of his younger years, it'll leave no sordid detail (except maybe violence against women) untouched: One of the drama's six episodes, filmed this week, reportedly involves "naked extras simulating sex in a mansion" — which coincidentally sounds straight outta a scene from Compton. Music video director Paul Hunter will direct, with Sam Rockwell and Mo McCrae reportedly cast alongside Dre. Vital Signs is expected to drop on Apple Music all at once, so in case you missed the flash-forward in Compton's credits, you'll finally learn what became of Andre Young.