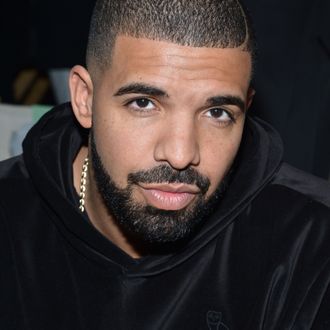 Drizzy.
Photo: Grant Lamos IV/2015 Getty Images
In news that might sound like part of an SNL sketch, Drake went to a bat mitzvah this weekend and brought "Hotline Bling" along as his gift. Stereogum notes the surprise appearance took place at New York's Rainbow Room, where young fans kind-of danced along and definitely sang along. Attendees captured cell-phone footage of the rapper, who also performed "Back to Back," "Summer Sixteen," and his portion of the "My Way" remix.
Watch snippets below:
At time of publication, other details about the celebration — like who the true gift winner in this scenario might have been — were unknown. But it's good to know you can count on Drizzy to always bring the best dance moves to any transformational experience.