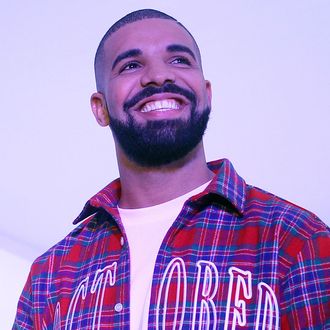 The world waits patiently.
Photo: Cole Burston/Getty Images
We all get our wires crossed sometimes, but most of us don't confuse millions of people in the process. During the Super Bowl, if you were able to take your mind off Beyoncé for a brief second, you might've noticed a commercial for the Grammys. It confirmed some of what we already know: Adele, Rihanna, Taylor Swift, Carrie Underwood, and the Weeknd are all set to perform. But the ad also mentioned some new names, like Nicki Minaj, Ariana Grande, Selena Gomez, Meghan Trainor, Luke Bryan, and Drake — that last one causing a bit of a ruckus.
Now, the commercial didn't explicitly say Drake would be performing, just that you'd see him within the show's first hour. And why not — he's nominated, he likes taking shots from his one Grammy; makes sense. But au contraire, says Drake, who tweeted almost immediately after it aired that he won't be performing:
So what's the deal: Will Drake be there or not? Vulture has reached out to the Grammys for some clarification. Until we get it, keep an eye on Drake Central (his Instagram) and pray to the 6 gods he'll surprise us for the live debut of Rihanna's "Work."