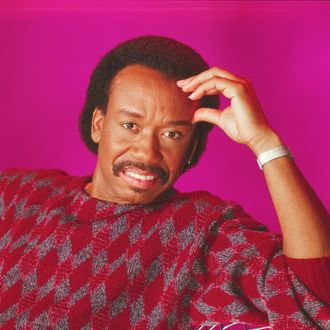 Maurice White in 1985.
Photo: Harry Langdon/1985 Harry Langdon
Maurice White, co-founder and front man of the iconic Earth, Wind & Fire passed away in his sleep in Los Angeles this morning, his brother Verdine White told the press. White was diagnosed with Parkinson's disease in the early 1990s, and though he remained involved in the group throughout the rest of his life, he had not toured with them since 1994.
White founded Earth, Wind & Fire with Verdine in 1969. The band featured vocals from the brothers, a distinctive falsetto from Philip Bailey, and a sound that blended jazz, funk, gospel, soul, and rock. The group hit it big in the 1970s with the album That's the Way of the World (1975), earning its first number one hit with "Shining Star." Later hits included "September," "Let's Groove," and a cover of the Beatles' "Got to Get You Into My Life."
White was born in Memphis, Tennessee, in 1941 and grew up singing in his church's gospel choir. He moved to Chicago in the 1960s to study music and worked as a session drummer there before traveling to Los Angeles with his and his brother's band, the Salty Peppers. In 1971, after leaving behind most of the other members, the Whites renamed their band Earth, Wind & Fire. When EWF's success cooled in the 1980s, Maurice pursued a side career as a producer, working with artists such as Cher, Barbara Streisand, the Emotions, and Neil Diamond. He released a solo album in 1985.
Earth, Wind & Fire also appeared in the 1978 film Sgt. Pepper's Lonely Hearts Club Band, performed at the White House and made an appearance during the Super Bowl. In 2000, they were inducted into the Rock and Roll Hall of Fame. Throughout his career, White was recognized by his band mates and collaborators as the soul of the group, its primary songwriter and "pace setter." "I think Earth, Wind & Fire came out of a need, a dual need," White said in a 1982 interview. "A need for myself as an individual to realize my total potential, in a sense of speaking. And also, from another sense, it came from a part of me wanting to render itself to humanity."