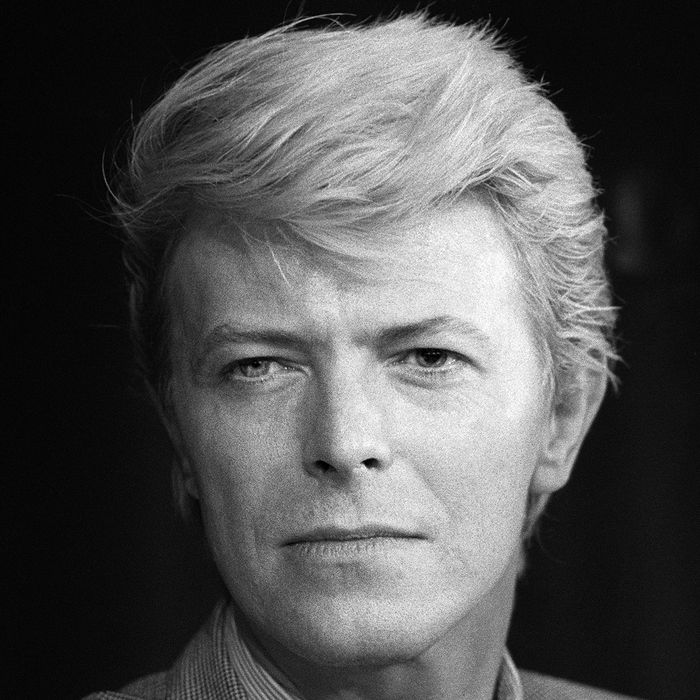 David Bowie.
Photo: RALPH GATTI/2013 AFP
David Bowie was boundless in his artful influence and reinvention. When Lady Gaga saluted the late rock icon at the Grammys last week, she showed just a glimpse of how chameleonic his career had been with a medley of hits ranging from "Suffragette City" and "Fame" to "Space Oddity" and "Heroes." With two prominent Bowie memorials on the horizon, we asked more than two dozen celebs to recall their favorite Bowie songs. (Since that's kind of an unfair question, some talked to us about albums, moments, and eras instead.)

Adam Scott
"Modern Love." Mostly because of Frances Ha and how well it's used in that, but also, it reminds me of childhood. I was a kid when it came out, and I listened to it all the time. Let's Dance is such a great album."
Olivia Wilde
"Life on Mars" encapsulates so much of what made Bowie so unusual. Not only is it melodically really brilliant, but it's a story. It brought in his love of exploration, the idea of something else out there. And it references what we have in front of us, and what's out there. I don't know, it's also my favorite karaoke song. [Laughs.] Jason [Sudeikis, Wilde's partner] and I always do that; it's our go-to duet. But you can't go wrong, I love "Space Oddity" equally. I love all of Bowie, I wouldn't want to take away from any of them.
Charli XCX
"Sound and Vision," 100 percent my favorite. I think it was the first David Bowie song that was played to me when I was, like, old enough to really appreciate it, and when I was in the studio making music, and it just really hit me. It's such a magical song.
Mark Ronson
I don't know if I could pick a favorite, because you know it varies when you discover different periods of Bowie at different times in your life. But I definitely think, like, probably '83 or '84, when "Let's Dance" came out. When you are a 6-year-old kid, you don't know anything about the Beatles or James Brown, necessarily. The first time I heard funk and groove music was from the stuff that Nile Rodgers and David Bowie did together. So that was always just a massive influence. And I think just the way he never ever sacrificed or compromised anything. It's just a good lesson for everybody to just make great art all the time.
Michael C. Hall
My favorite Bowie song has always been "Quicksand" from Hunky Dory. Because of the feeling. It's simultaneously so detached and yet heartfelt. You know, he manages this dichotomous thing, and that one does it.
Ray Romano
I am a fan of music, I'm not an expert on music, so for Bowie, my favorite was "Space Oddity." I just remember when it came out, and I love how different it was, how inventive it was — that, and "Life on Mars." The lyrics on that are very poignant and meaningful. It's kind of surreal.
Taylor Hicks
Ziggy Stardust was one of my first albums on vinyl, and I love vinyl. That's one of those things about the music of this particular era, was that everything was really real. That created a really warm and fuzzy sound in a really good way. He was one of the masters of doing that, and creating different kinds of art forms and reinvention. That guy had more reinventions as an artist than probably anybody in rock 'n' roll. I love the album Ziggy Stardust, the whole album. I kind of pick out masterpieces. I think Ziggy Stardust was that particular album for me. He's gonna be sorely missed.
Russell Simmons
I think "Let's Dance." I heard it so many times these last few days, it's just stuck in my head.
Paris Hilton
I love "Fame." I actually remade that like ten years ago for my first album. I love that song. David Bowie is a legend.
DJ Cassidy
Oh yeah, "Let's Dance" and "Under Pressure," two staples in my repertoire. I mean, "Let's Dance" is one of the greatest dance records ever made. You know, it's his most R&B disco record. And you know, Nile Rodgers was the No. 1 producer at the time, and he called Nile to produce that album, the Let's Dance album. Nile's a friend of mine, and I think he told me they made that album in three weeks. But, you know, "Let's Dance" is one of those songs that fall into a category with Michael Jackson, "Don't Stop Till You Get Enough," "Holiday" by Madonna, songs that are just classic, epic dance-floor anthems that never die.
Carrie Brownstein
Oh, right now it's the song from Lodger about being on the moon. I guess I just relate to it because I feel very peripatetic. It's a great song. I love the Berlin trilogy a lot.
Lea DeLaria
I just put out a jazz cover album of David Bowie tunes. My favorite David Bowie song, I vacillate. Right now it's "Suffragette City," and 50 percent of the time it is "Suffragette City." I like it because of "Wham, bam, thank you, ma'am." The other 50 percent of the time it's "Life on Mars," because it's very, very, very poignant. It's really interesting, and what I love about it is it's couched in this fabulous, gorgeous, sexy music — really strong political ideologies. Like really lefty politics. So I dig that. Only David Bowie could pull that off.
Boy George
My first-ever concert was the most powerful one: It was Ziggy Stardust in 1973. I was 11 and 11 months — it was just before my 12th birthday. I don't know how I managed to get a ticket for that gig, or how I persuaded my parents to let me go. It was quite a feat to get that to happen. It really changed my life. That concert was the beginning of everything for me, because it was the beginning of me saying, "I'm not the only weirdo on the planet. There are others. I want to be a musician. I want to be like my idol, David Bowie." That was the beginning for me. A big, big, big moment for me.
Diane Warren
Well, when I was a teenager, we would always listen to David Bowie, you know. I just loved his songs. I mean, the cool thing is with all his changes of his persona, whatever he was, whether he was a Thin White Duke or all-out or Ziggy Stardust, the songs were great. That's what was key to David Bowie: It wasn't like, just all this, you know, these crazy personas. Every song in that time, whether it's "Heroes" in the later years, or earlier, like, "Changes" or "Space Oddity," they were just great songs. I have two favorites: One is "Space Oddity," and the other one is the song he wrote for Mott the Hoople called "All the Young Dudes." A great song will transport you, and both those songs, especially "Space Oddity," where you feel like you are that guy. You feel like Major Tom. I remember seeing Gravity thinking that's what that feels like. That's what that seems like. And I just loved "All the Young Dudes." I just loved that record, but he had so many great songs. It's just really sad, [dying] at 69 years old.
James Corden
My favorite Bowie song is "Space Oddity," because I just love it. When I hear it, it gives me agreeable feelings in my body. I enjoy it very much, but pickin' a favorite David Bowie song is like picking your favorite sex position! They're all great. And also, you prefer different ones on different days. So it's all dependent on my mood.
Abigail Breslin
It's that song "Changes." I guess because I would hear that in the car all the time when I was growing up. My brother is in New York, actually, right now, with his band. They're performing and doing a tribute to David Bowie. I wish I could be there.
Birgitte Hjort Sørensen
Bowie was a giant in so many ways. For me, "Life on Mars" is something special to me. I think the brilliance of him was that he kept going and kept approaching not only the rest of the world, but also his own.
Juno Temple
"Ashes to Ashes" was one of my favorite songs. I love his version of "China Girl," but I also love Iggy's version of "China Girl." I love Bowie so much, he spoke to me so much as a kid. I was talking to my dad about it earlier, and he was just this person who truly encouraged you to be who you are, you know, and really stood there and said, "Hey, be an individual, own it, be proud of it, say what you want to say, and don't shy away from that." I mean, Ziggy Stardust is pretty, like, extraordinary.
J.C. MacKenzie
I would say "Heroes," like a lot of people. I don't know, it just sort of spoke to me. Bowie for me was important because he represented an individual who could allow himself [to be] whoever he wanted to be. I, as an adolescent, was always locked up in whatever persona I thought my friends wanted. It was so nice, and I always, from afar, idolized him, and never said that about anybody else. Bowie was very, very important in my life. Ziggy was my favorite Bowie. Because he was outrageous. He couldn't have been more outrageous.
Annie Parisse
My favorite album is Hunky Dory. The thing that was really bizarre about hearing he had passed away is that you feel like a friend has passed away, because you've spent so much time with that person. But when someone's work has impacted your life so much, it feels very personal; it's like a jarring revelation. Hunky Dory was like a moment in time for me. I came to it when I was 15. It was like a change in my life, that moment where I was like, Oh, my parents can't boss me around anymore. It opened up a world to me, like what could be possible.
Jack Quaid
I'd say "Space Oddity," Major Tom. That's where it first started with Bowie. And you know what, honestly, the one that still makes me cry to this day is "Young Americans," and I love that song. That holds a special place in my heart.
Susan Heyward
I didn't know a lot of his work. What I'm realizing now is that he changed so dramatically that I thought one song was the Beatles. So "Major Tom [Space Oddity]" has taken on a completely different meaning for me, because I thought that was coming from someone else. I [found that out this week]. I didn't know how deep the meaning was. I understood it on a surface level: Oh, he's floating, he's out there. But to hear a clear breakdown of the song now kinda makes me feel dumb. I was like, I can't believe I missed this train. But now I get a chance to get on it.
Jojo
"Fashion," I love. It just makes me feel fabulous, and I just think of all the incredible ways he's impacted fashion and moved that conversation forward and pushed the limits. It's fun to me. I don't know his catalogue well enough to really give an educated answer, but that's the one that speaks to me.
Aaron Sharp (Saint Motel)
That's a hard one, but I really like "Five Years," track one on Ziggy, because I love songs that start with a single element, and they just build and build and build and build until it's mayhem. And I think that song has a fade-out and I love fade-outs. There's just a couple elements that I love about that song, and it's not a well-known song.
Gary Clark Jr.
My favorite David Bowie song has to be "Fame." I have a special connection to it. Stevie Ray Vaughan, guitar player from Texas, laced the track beautifully along with some other cuts, and it's just a great dance record. Beautiful stuff.
Fitz and the Tantrums
Michael Fitzpatrick: "Heroes," or we've just been performing "Young Americans," so we've had a special connection to that one.
Noelle Scaggs: We picked that because of the vocals. You know, that was a period of his career when I thought he was really bringing in background vocalists that had that gospel kind of flare, that were adding that soul vibe to his music, and I think that entire record was that way. It's kind of crazy, I love it, so he and I sing in tandem, singing in unison, our bass player actually sings the lead, and it's actually really cool.
Jess Glynne
There's "Life on Mars," and then "Ashes to Ashes." For me, both really ace. "Ashes to Ashes" is my dad's favorite, played it nonstop.
Terence Winter
I have to say "Life on Mars." It's sort of stirring; it just cuts right to your soul. It was one of the first things I'd ever heard from Bowie. I remember even as a kid, it just sort of moved me. To this day, it's now really poignant, and we feature it on [HBO's Vinyl] later in the season, and it has a really poignant effect. The Ziggy period is the one that stands out for me because, again, as a teenager, that was the thing that kind of blew my mind: that anybody could go around and look and act like that and be that cool and get away with it. You know, growing up in Brooklyn in 1973, you say, God, you'd probably get your ass kicked if you did that, but this guy is actually pulling it off. So good for him.
Jessica Pimentel
"Diamond Dogs," maybe, something like that … from that album, I mean. I love so many for different reasons. I feel like the new one, that Blackstar album, is so haunting, it's ridiculous. But I think for me, even though it's not maybe the deepest, but "Fame" makes a lot of sense, because I went to [the] Fame high school. I went to Fame high school watching the TV show, the movie Fame, and kind of things.
Robert "Kool" Bell (Kool & the Gang)
"Let's Dance" And why? Because it makes you dance.
The pair of David Bowie tributes slated for later this year are taking place at Carnegie Hall (March 31) and Radio City (April 1).