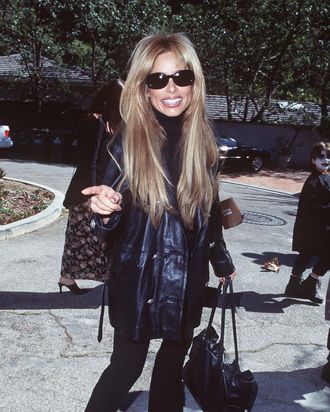 Faye Resnick during Celebrity Halloween Event at Home of Susie Field for the Children of LA Childrens Hospital at Private House in Beverly Hills, California, United States. (Photo by SGranitz/WireImage)
Photo: SGranitz/WireImages
Less than four months after the grisly murders of Nicole Brown Simpson and Ron Goldman, one of Nicole's friends, Faye Resnick, wrote a book brazenly titled Nicole Brown Simpson: The Private Diary of a Life Interrupted. She co-wrote the book with National Enquirer gossip writer Mike Walker, and it's both tawdry and tragic in its timing and content. Just a month after its publication, Resnick said, "Every time I read the book I almost cry, because I sound like a major airhead." In a way though, Resnick was simply ahead of the game: She received a $60,000 advance for the book, which was the first of many published about the murders and trial of the century.

As detailed in Tuesday night's episode of The People v. O.J. Simpson: American Crime Story, the book ultimately made Resnick (played by Connie Britton) persona non grata for the trial, forcing Judge Lance Ito to halt jury selection to read the book and weigh its possible impact, and ultimately forcing the prosecution not to call Resnick to the witness stand — even though she could have testified to how O.J. Simpson had threatened Nicole's life.
So just how salacious was Nicole Brown Simpson: The Private Diary of a Life Interrupted? The book narrowly focuses on the four years when Resnick knew Brown and zeroes in on Nicole's sex life and Simpson's temper and abusive behavior. There are contradictions throughout, such as when Resnick chastises the media's slut-shaming of Nicole while breathlessly relaying her friend's sexual proclivities. It's a difficult book to read, even after over 20 years have passed, because as gossipy and unseemly as it appears, there is the sense that there's some truth to it.

Resnick explains how Nicole inspired the "Brentwood Hello."
One of the scenes from The People v. O.J. Simpson shows Britton meeting with the publisher and gushing over the "Brentwood Hello." It refers to a specific incident when, after her divorce, Nicole had drinks at her neighbor's house where she gave a man, who was engaged to another woman, "the blow-job of his life."
Resnick really likes material things.
As much as this is a book about Nicole Brown Simpson and O.J. Simpson, it is also really a book about how much Faye Resnick likes stuff. In addition to cocaine and Valium, Resnick is pretty fond of lunches at Toscana, shopping on Rodeo Drive, hair and manicure appointments, and nights at the Roxbury. Her pièce de résistance, though, is her home, the former residence of Disney chair Michael Eisner, which she spent $1.3 million renovating, requiring her designer Warren Sheets to "literally [live] and [travel]" with her for over a year to "design a home unique to [her]." She describes the interior as done in black and gold with Roman, Egyptian, and "oriental" flourishes. Given that Resnick was reportedly broke upon Nicole's death, it isn't hard to see why she wrote the book.
There are celebrity cameos from Donald Trump to Prince.
What's a vulgar tell-all without an appearance from Donald Trump? She describes seeing the Donald at a party in Aspen with an "incredibly big-busted bimbo." There's the time she had dinner with Vanna White. The other time Arsenio Hall told O.J. Simpson, "Don't mess it up now by getting drunk," referring to his reconciliation with Nicole. Prince was also at the bar, but Resnick couldn't see him: "The booth was entirely blocked by four burly body guards standing in front of it." That seems as it should be.
Resnick and Nicole hooked up.
Resnick says that after a night of dancing, Nicole came over to her place where she lit candles and they did tequila shots. Then they started kissing, and Resnick writes that what happened was "more a spiritual bonding than anything else." She says that it didn't happen again, and that their friendship continued on smoothly afterwards. Just to be clear though, Resnick writes, "Neither Nicole nor I were or ever could be gay. I respect those that chose to be gay. That's their way of life, and I don't question it. But it's not for me."
She writes about Nicole's love of black men.
Another one of Nicole's affairs was with Marcus Allen, an NFL player who was moving from the L.A. Raiders to the Kansas City Chiefs at the time. He also happened to be O.J.'s second best friend (A.C. Cowlings was number one). Allen was engaged at the time they started their affair, and Resnick says that according to Nicole, he was one of the few men who could satisfy her sexually other than Simpson. Resnick writes:
When I confronted her about [her desire for black men], [Nicole] said, "They weren't the first men in my life, but what the others had was like a mini-pickle or a gherkin compared to what I'm used to … We'll have to see what comes along. A.C. was always saying that O.J. had molded me sexually so that nobody else could ever take his place. Let's hope he was wrong."
She clearly enjoys her own role as intermediary between O.J. and Nicole
One of the difficult things to read throughout the book is that as the fighting between O.J. and Nicole escalates, Resnick increasingly takes a central role in their mediation. Perhaps it's a result of the writer's delusion to her own centrality in the narrative, but it's not difficult to sense that she relishes her role as intermediary for the feuding couple. Resnick writes, "O.J. knew I was the best pipeline into her heart, her mind, and her soul," referring to Nicole. There are multiple phone calls where Resnick is talking to Nicole, only to have O.J. call her on the other line. In one instance, she writes:
"I can't take this, Faye, I can't take this. I mean it. I'll kill that bitch."

"O.J., hold on … "

I punched the other line. "Nicole, O.J.'s on the other line; I'll call you back."
The stories of abuse are horrifying.
According to Resnick, Nicole said that the worst beating she endured from O.J. Simpson was the time when she learned, and confronted, her ex-husband about his affair with Tawny Kitaen. She said he savagely beat her and locked her in the closet. He would then watch television, only to occasionally come back and beat her.
She gives Nicole bad advice.
One of the troubling instances in the interactions between Resnick and Nicole is that even as the friend points out how O.J. is manipulating her, she also participates in the manipulation. That is, she tells Nicole that "O.J. always controls everyone and everything around him," but even then, Resnick participates in the same kind of game-playing. She postpones her boyfriend Christian Reichardt's birthday party at the behest of O.J. so that he can attend. Then she tells Nicole, "Every time he calls me, he sounds obsessed and crazy. Please, don't break up with him until after the party."