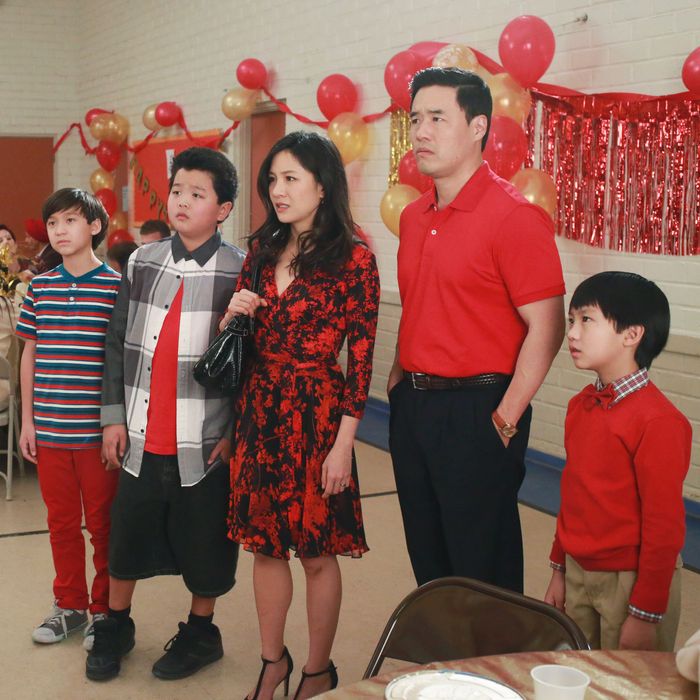 This is not Chinese New Year.
Photo: Ron Tom/ABC
It was just one year ago that Fresh Off the Boat premiered on ABC, becoming the first sitcom about an Asian-American family to air on broadcast television since Margaret Cho's All-American Girl in 1994. And while this achievement is bewildering in its simplicity, so is the next one: Tuesday night, during its mid-season return, Fresh Off the Boat become the first show to celebrate Chinese New Year.
"Obviously every holiday has been done a thousand times. There's been a million Christmases, a million Thanksgivings, a million Halloweens," showrunner Nahnatchka Khan said. "But I'd be surprised if there was a show that has ever done Chinese New Year because there just hasn't been the opportunity or awareness that we have on our show."
Khan knew she wanted to do Chinese New Year when they got a second season order. At the time, ABC had only ordered 13 episodes, so they planned for "Year of the Rat" to serve as their de facto series finale if need be. (The network eventually picked the show up for a full season.) The episode finds the Huang clan gearing up to travel to D.C. for the big holiday, only to discover that dad Louis got the dates wrong, forcing them to figure out how to celebrate a holiday in a city without any Chinese people, creating some distinctly awkward moments.
"I know that it's historic, but one of the great things about our show is that we try and celebrate the Asian-American perspective instead of saying, 'We're just like every American' and neutralizing our race," said Constance Wu, who plays Jessica Huang, the mom with masterful side-eye. "So it's special because it happens, but it's not special because Nahnatchka and the writers try really hard to normalize it — as in, this isn't an exotic holiday."
That ability to weave between in-groups and out-groups is part of what makes the show so strong — even as they have Jessica explain the various symbols of Chinese New Year, the writers also made sure she was tired of having to do so. "It's kind of like when you're constantly having to teach white people about microaggressions or racism," said Wu. "Even with well-meaning people after a while, you're like, I don't want my life to exist in education and explanation. Sometimes you just want to enjoy your dinner."
Tuesday's episode culminated in a festive gathering at Cattleman's Ranch, complete with dragon dancers, red lanterns from Janet Jackson's "If" video, and a full table of dumplings. "Normally I'll take a few bites for camera, but I was really eating throughout that entire day of shooting because the food was so good," said Randall Park, who plays Louis Huang. "The kids ate so many dumplings during takes, I thought they were going to throw up," said Khan. "I couldn't believe it. Hudson [Yang] was just inhaling dumplings. The director would call cut and then our poor set person was like a waitress, because she was like, I need more dumplings! Can you refill this?"
Khan hopes that Chinese New Year becomes a tradition for the show much like Halloween became a tradition for Community and Brooklyn Nine-Nine. "I will definitely do Chinese New Year every year," said Khan. "It becomes in the canon of our show like, What are we doing for our Chinese New Year episode? Like not even up for debate if we're doing one, just, what's it going to be this year? That kind of thing would be fantastic."
That the episode falls right around the first anniversary lends extra significance to the occasion. "Being a part of the show has definitely been a real crazy journey for me personally," said Park. "I went to college with a focus on Asian-American studies, and one of my big interests was media representation. To see the journey of the show, to feel how worried people were before the show came out, and how much they've embraced it for the most part — I'm really proud."