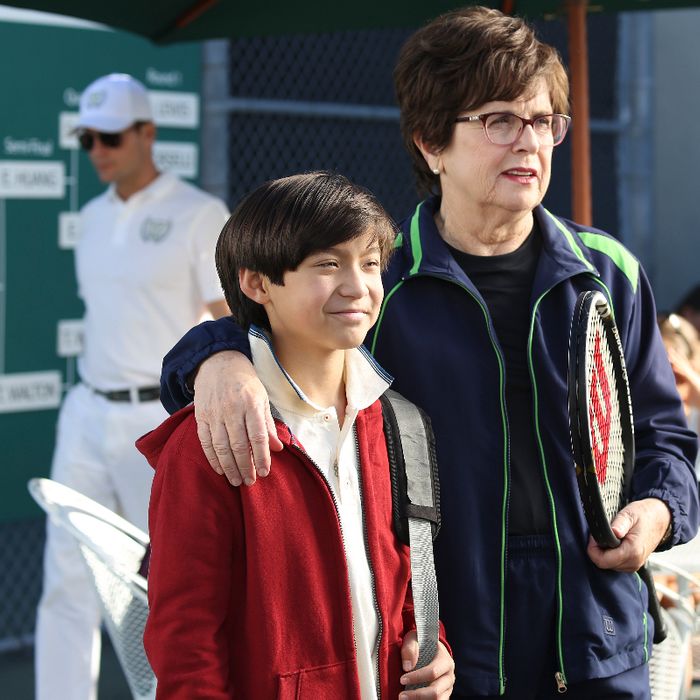 Forrest Wheeler as Emery, Billie Jean King as herself.
Photo: Kevin Estrada/ABC
I've long wondered when Fresh Off the Boat would tackle the issue of tiger parenting. We've gotten glimpses of it, but for the most part, the show hasn't really addressed the pervasive stereotype at all. I get it. Even if you were raised by an Amy Chua–style tiger mom, hellbent on fast tracking you from cello lessons to piano lessons to Harvard, you don't exactly want to see that play out on national television.
All this to say, Jessica Huang really is a low-key tiger mom. She's going to do everything in her power to make sure her children realize their full potential, whether they like it or not. I have been patiently waiting for this show to take on the eternal struggle between parents' desires for their children's futures and the actual reality of what their children can do. And "Michael Chang Fever" did not disappoint me.
The Huang kids, fitted out in matching backpacks, come home from school one day with the results of their career tests. To nobody's surprise, Jessica isn't entirely pleased with the results. Evan, bless his heart, could be surgeon general — a nerd, even by Chinese standards. Emery, on the other hand, is on track to become a flight attendant. It's a little less prestigious, but it checks off all his boxes: travel, snacks, and being helpful.
Does Jessica like the idea of her son joining the ranks of the "homeless of the sky?" Not particularly. And, if Emery won't change his mind, she's going to find a way to do it. Thankfully, Chinese tennis pro Michael Chang is playing in the Australian Open. Tennis is the greatest game known to mankind — it's aggressive and elegant, just like Jessica — and Michael Chang is a strong Asian role model. Also, the announcer says he's made millions of dollars and the scoring system, much to Emery's delight, is based on love. Forget pushing a beverage cart down the aisles of a 747, Emery. Tennis is your ticket.
Once Emery gets on the court, it turns out he has a natural affinity for the sport. His first serve impresses his mother. His second serve gets the attention of famous tennis player Billie Jean King — who spends part of her year in Florida for tax purposes — further acknowledging his excellence. We have a prodigy on our hands! One can reasonably assume that he'd just continue smashing the ball over the net, doing what he saw on TV, but Jessica swoops in with a plan. Her son's talent on the clay is undeniable. This is his time to shine. She must groom her little prodigy by treating him like a show pony. Eddie, useless but lovable, is forced to "temporarily" bunk with Evan so Emery's talent can thrive.
And … montage! There's Emery, tennis wunderkind. There's Louis and Jessica, watching from the stands. There's Emery's name, moving up through the ranks in the tournament. There's his face, plastered on a giant poster of Shaq. Look, Emery got success dumplings! Like Michael Chang's exhilarating performance in the Australian Open, Emery's tennis star is on the rise. Unlike Chang, who loses to Pete Sampras, Emery makes it to the finals. But, Jessica's training schedule — tennis, school, tennis, tennis — is a bit much for a 10-year-old, no? So, with the grace of a seasoned pro, Emery fires both of his parents and hires Billie Jean King. Take that, mom!
Now Jessica and Louis can't actually see their prodigy do his thing because, surprise surprise, they've been banned from the stands. If you were an umpire, would you want Jessica Huang all up in your face? If you were a regular person, would you want Jessica Huang all up in your face? Banning them seems a bit extreme, but I'm pretty sure this is deserved. Emery wins the tournament, thanks to his success perm, his actual talent, and Billie Jean King's masterful disguising of treats as punishment during training. He's actually good enough to make this a real career! But moving to Coral Gables to train full-time isn't his thing, because family and love and awww.
Jessica and Louis are happy their little flight attendant wants to stay close to the nest … but that doesn't mean he can't go to space camp instead. Being an astronaut is basically the same thing as being a flight attendant anyway, but with science.
While Emery conquers the fiercely competitive world of Orlando's youth tennis scene, new roommates Evan and Eddie have another problem on their hands: Evan's angelic demeanor belies a serious and life-threatening Pog gambling problem. It turns out he's in way over his head in the underground competitive Pog circuit because he owes a fifth grader named Stacy some serious scratch. Yes, he could try intimidation by puffing himself up like a constipated bear, but Evan is small and cute and precious and needs protection. Also, his gambling issue is crippling and will certainly be his downfall if Eddie doesn't step in to help.
The good big brother that he is, Eddie vows to help him out. He orchestrates a showdown, then deploys their secret weapon: Grandma, who naturally crushes the competition, just like she crushes her favorite snack of Miller High Life and Combos. And it looks like the littlest Huang has a bright future as a stockbroker. If you wanna gamble, might as well do it with someone else's money, right?
AUTHENTICITY INDEX
+11 tennis visors for Jessica's tenacity in the stands. Yeah, she's crazy, but she's crazy because she loves her children and wants them to succeed.
+1,000 racquets for this life lesson regarding Michael Chang's loss to Pete Sampras: He didn't work hard enough. Second place is the last to lose. Is this harsh? Maybe. But competition is healthy and a little terrifying and all Jessica wants is for her children to do their best. She's a bit more of a tiger mom than I previously thought, but I still think she's okay.
+89 fresh cans of tennis balls for Louis's obvious but still important observation that Michael Chang is an Asian athlete worth celebrating. The pride in seeing one of your own flourish is very real. I don't even like basketball, but I found myself in the grips of Linsanity as it happened, just like everyone else.