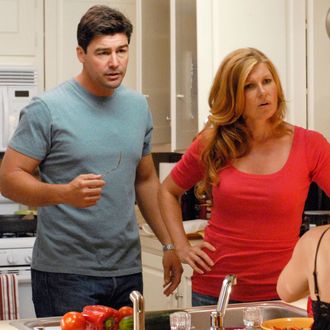 What did Julie Taylor just do?
Photo: Bill Records/NBC/Getty Images
It's been ten years since Friday Night Lights premiered in 2006, bewildering NBC with its full eyes and clear hearts. EW reports that the cast and crew of the beloved show about Dillon, Texas, are reuniting for its tenth anniversary as the premiere event of the ATX Television Festival, held from June 9–12 in Austin, Texas. The reunion will take place on a Panther-themed football field (where else?) and will feature a pep rally, live music, tailgaiting, and photo opportunities. ATX still hasn't announced the full list of participants, so you won't know yet if you'll finally get your shot with Tim Riggins under the bleachers. Or Matt Saracen, if that's more your speed. Texas forever!