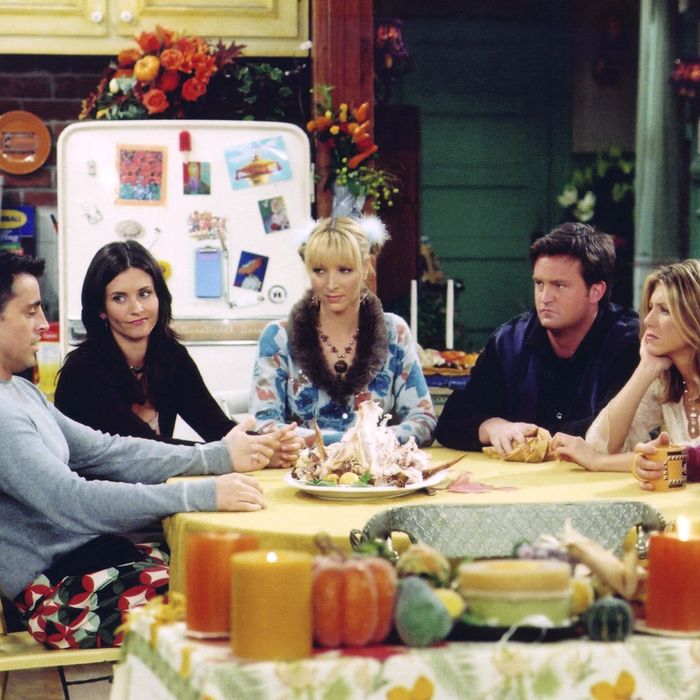 The gang is back… doing their own things!
Photo: Danny Feld/NBCU Photo Bank
When Friends ended its prime-time reign in 2004, the six actors went on to achieve varied success outside the constraints of the famed sitcom — some readily maintained their commercial appeal, while others, though certainly still household names, never quite rose to that level of prominence again. But checking in with the cast today, they're all quite gainfully employed, and it appears we may be in the midst of a Friendaissance.
Matt LeBlanc
A longtime enthusiast of motor sports, LeBlanc appeared on the BBC's widely popular Top Gear in 2012 where he set a new record in the "Star in a Reasonably-Priced Car" segment. The good vibes stuck with the producers: It was announced earlier this month he would be one of the new hosts of the rebranded Top Gear (more on that controversy here), sharing hosting duties with Chris Evans and other gearheads.
Aside from the BBC, LeBlanc will be starring in a new, cheekily named comedy pilot for CBS, I'm Not Your Friend, about "a contractor who learns that raising his kids is more challenging than expected when his wife goes back to work." Additionally, his Golden Globe–winning comedy/drama Episodes will begin shooting its last season in the spring. He's also a member of Taylor Swift's squad.
Courteney Cox
Fresh off six seasons of cult-favorite Cougar Town (and a poorly received directorial debut at the Tribeca Film Festival), Cox will be starring in and executive-producing a new comedy pilot for Fox called Charity Case. The sitcom follows "a widow who inherits her late billionaire husband's charity instead of the wads of cash she would've preferred." She'll soon be gracing the big screen in a supporting role in Mothers Day, an independent drama that centers around a "rock photographer who is riding a career high when an unlikely and unexpected pregnancy forces her to turn her lens inward and see her relationship with her estranged mother with fresh eyes."
Matthew Perry
After a slump of failed prime-time shows that never made it past the first season (Studio 60 on the Sunset Strip, Mr. Sunshine, Go On), Perry went on to co-create a revival of The Odd Couple for CBS. He serves as a writer and executive producer for the sitcom, and portrays one half of the "odd couple": the sloppy and scruffy Oscar Madison. While reviews have been mixed, it was renewed for a second season that begins airing in April. Perry also made his playwriting debut with the original play, The End of Longing, earlier this month at London's Playhouse Theatre (which kept him from attending the quasi-Friends reunion in Los Angeles). It follows four almost-40-somethings who, "after sharing one raucous night together in a downtown Los Angeles bar, [become] irreversibly entwined in a roller-coaster journey that forces them to confront the darker sides of their relationships." Current reviews are divided.
Lisa Kudrow
Kudrow has maintained her status as a respected actress and comedian on the big and small screens. She revived her HBO comedy-drama series The Comeback in 2014 to glowing reviews (while simultaneously starring in Web Therapy, the Showtime improv-comedy show she co-created). This year she's slated to appear in two comedy films — Neighbors 2 and Table 19 — as well as the highly anticipated adaptation of the psychological thriller novel The Girl on the Train, as a character named Monica. She also memorably lent her voice-acting chops to Wanda the owl in BoJack Horseman's second season.
David Schwimmer
Although he's remained relatively quiet in recent years — choosing to do directorial work over acting — Schwimmer has nestled his way back into our hearts in recent weeks as O.J. Simpson's defense attorney and loyal friend, Robert Kardashian, on FX's The People v. O.J. Simpson. He'll also be starring in AMC's upcoming crime drama, Feed the Beast, which follows two best friends "who take one last shot at their dream of opening a restaurant." There are also rumblings that Madagascar 4 may be happening (Schwimmer voices the beloved cowardly giraffe, Melman). 
Jennifer Aniston
Aniston certainly never left the Hollywood spotlight — she's currently one of the highest-paid and valuable women in the industry. Since Friends, she's co-created the production company Echo Films and primarily stuck with film parts (mostly romantic comedies). She nabbed a Golden Globe nomination in 2015 for her role in Cake, and she'll be in two films this year: the celebrity-packed omnibus comedy Mother's Day (no relation to Cox's, funnily enough) and an adaptation of the war novel The Yellow Birds.