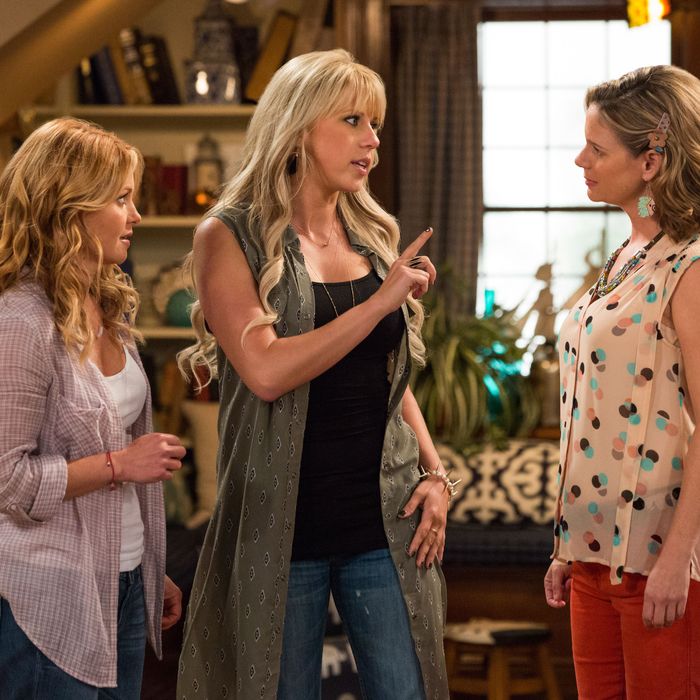 Left to right: Candace Cameron Bure, Jodie Sweetin, and Andrea Arnold.
Photo: Michael Yarish/Netflix
If you were a well-behaved preteen in the late 1980s and early 1990s, you probably spent Friday nights in watching ABC's Full House. The impossibly saccharine sitcom about a widower whose brother-in-law and friend help raise his three kids not only helped spawn an entire block of chaste family programming — called TGIF — it became a syndication phenom when it left the air in 1995. For most show creators, an eight-year run (and probably enough money for nine lives) would have been enough. Not so for Full House's Jeff Franklin, who underwent a nearly decade-long struggle to reboot his beloved series — this time called Fuller House — which premieres today on Netflix. Fuller House centers on the adult lives of D.J. Fuller (Candace Cameron Bure), Kimmy Gibbler (Andrea Arnold), and Stephanie Tanner (Jodie Sweetin), while also mingling with figures from the past (Bob Saget, John Stamos, Dave Coulier, and Lori Loughlin all make appearances) and a new cast of children. Here Franklin, 61, reflects on the reboot that almost didn't happen, his "casting nightmare" on the original series, his biggest fear in reuniting the cast, and the surreal feeling of going home again.
Full House ended its eight-year run in 1995 and has thrived in syndication ever since. How difficult a sell was it to reboot the show?
In 2007, John [Stamos] and I were having lunch — much like our first lunch back in 1987 — and talking about how there aren't really family sitcoms like Full House anymore. I said, "I have a cool idea to bring the show back. Do you have any interest?" He said, "I don't know that I'd want to be on it full-time," but he thought it was a great idea and said, "I'll come back and be Uncle Jesse now and then." I was so thrilled to hear him say that. The cast had fought their Full House history for a while. They had all been typecast in other jobs after the show ended. They certainly didn't want to spend the rest of their careers hearing people yell "Uncle Jesse!" "Uncle Joey!" at them. John specifically had worked very hard to establish himself as a versatile actor, so to hear him say, "I'm willing to come back" — I had tears in my eyes. We went to Candace and the rest of the girls to see if they were interested, and they were. We took a shot at pitching the show with Warner Brothers in 2008. We had some interest, but it didn't happen. I let a few years go by, then I called John and the girls again and said, "I want to try this again." We made the rounds for a year and a half pitching to any place where it seemed like a good fit, but no one stepped up.
So ABC passed on rebooting one of its biggest shows of all time?
Yeah, I was stunned. It seemed like a no-brainer. It's so hard to launch a new show now and this show already had incredible brand recognition. Full House was on 40 times a week and drawing millions; fans were binge-watching it every night on Nick at Nite. But ABC didn't get it. Actually it was an executive at Nickelodeon — a network that Full House has kept in business all these years — who ended up moving to Netflix. He reached out to Warner Brothers and said, "Would you please bring this show into Netflix?" And they stepped up in a really big way. But all of this was very, very close to not happening.
Your pitch for ABC back in the day wasn't actually for a family comedy. Where did the Full House concept originally come from?
I'd wanted to do a show called House of Comics about three stand-up comics sharing a house trying to make it in the business. But I never personally pitched it. The studio, Lorimar, had given the one-liner about that concept to ABC and they said, "We'd love to do something with Jeff, but we're more interested in a family show right now. Is there some way he could take that idea and spin it a little bit and turn it into a family show?" So that's what I did.
So Dave Coulier's Uncle Joey character became a surviving piece of your original concept?
Right.
The TGIF block of Friday-night family comedies in which Full House aired — Perfect Strangers, Family Matters among them —seemed to exist purely for the "lesson moment" at the end of every episode. Full House perfected this sitcom trope. How much influence did the network have in maintaining this formula?
We established our own formula for Full House so I can't really say ABC had much to do with it. What I would say is that [legendary TV producer] Garry Marshall had everything to do with it. I started my career on Laverne & Shirley and Garry really established that formula. He had a very sentimental score underneath a hard scene in every episode of Laverne & Shirley, Happy Days, and Mork & Mindy. That was his baby. Miller-Boyett [Productions] basically worked under Garry initially. And when were developing the show back then, we stayed within Garry's formula. I give him the credit more than anyone.
When you initially cast the three adult leads on Full House, what and who were you looking for? Who was the most difficult to find?
When I started the casting process, I had two names on my list for the lead: Paul Reiser and Bob Saget, both of whom I was friends with. Bob was the warm-up guy on Bosom Buddies, which I had produced. We became friends there. That was probably seven years prior. And Paul and I did a pilot together a couple years earlier that didn't go. I really loved him. But for whatever reason, he chose another show about single dads, My Two Dads. Then Bob wasn't available either. He was doing a morning program on CBS at the time and couldn't get out of his contract. Then it became a nightmare of casting, really. We saw every actor in town and couldn't find the right guy. Bob and Paul were both very likable; guys you root for who have "everyman" vibes about them. So we shot the pilot with an unknown actor, who did a very good job and we would have gone with him had Bob suddenly not become available right after the series was picked up. It was really my personal crusade to convince Lorimar and ABC that they needed to spend one million dollars to reshoot the pilot and replace the actor with Bob! Nobody wanted to hear it, but I wouldn't let it go. Eventually, they let me have my way. It was almost a very different show. I knew Bob was not, in real life, this squeaky-clean guy. But I thought he would be great in this mix with John Stamos and Dave Coulier. I'm a big fan of casting stand-up comics and letting them grow into actors, because they already know how to find the funny. And that's everything in a comedy.
I must admit one of the stranger aspects of watching Fuller House is seeing Bob do a family sitcom again after watching him be very inappropriate on Entourage and in The Aristocrats.
[Laughs.] Isn't that awesome?
Fuller House opens with a grown-up D.J. having just lost her spouse and facing life as a single parent, which was also the conceit of the original show. Were you worried at all about repeating yourself?
I was. Would people think, How lazy or uncreative could you be? I wanted to figure out another way to get all of these people in the same house living together. We explored a bunch of different options but in the end it just felt like the Tanner curse was the way to go. [Laughs.]

Much was made in the media about how Mary-Kate and Ashley Olsen declined to reprise their role as Michelle Tanner. Was Netflix worried about this turn of events?
Yeah, that was a giant bummer, but their participation was never a precondition for doing that show. I hoped that they would come back and do one episode but I didn't think that they were going to be regulars.

The set of the Tanner family home has been exhaustively re-created. What did it feel like being on the set again for the first time since you left?
It was surreal, almost indescribable. I left the show after five seasons and every day after that I wished that I hadn't left. I hated that I missed the last three years of the show. I didn't like what happened with the show creatively. When I left, it was a top-three show and three years later it was in the 30s and then got canceled. That was so sad to me.
Aaron Sorkin once told me that he couldn't watch The West Wing after he left the series, because it felt like watching someone else sleep with his girlfriend.
[Laughs.] Exactly. I watched a couple of episodes and it was just too painful, but I did watch the numbers! We lost a third of our audience really fast. So to get a second shot, be back with these actors that have become like a second family to me — to hit that kind of jackpot twice in my life is ridiculous.
How many of the original writers were you able to talk into coming back?
Well, I mostly wanted some fresh voices, but I did bring Boyd Hale back. He was a writer/producer on the original show. He was also the guy with whom I wrote To Grandmother's House We Go, the first Olsen twins movie. We've stayed friends all these years.
Graham Yost, the writer and EP of Justified and The Americans on FX, was also a writer on Full House early on. He told me once about the day he quit to try and sell a screenplay he wrote called Speed. What was your reaction to that?
[Laughs.] I was so sad he was leaving. I really liked him and he was one of our strongest writers. There's nothing you can say. I probably said, "Can't you do both? You can stay on the show and write on weekends." Graham turned into a superstar, so I take full credit for that.

Fuller House has self-awareness about diversity that the first show didn't. There's a joke early on in season one where Kimmy Gibbler jokes about the whiteness of D.J.'s family. Kimmy's ex-husband is Latino, and she's the mother of a Spanish-speaking daughter. How purposeful was it to diversify this world?
I don't know if we could have sold Full House today with such a white cast. We tried to populate the original show with lots of diverse friends, but at its core it was a really, really white show. I wanted to try to bring a different vibe to this one. There is the Latino aspect. Also, this show is definitely more adult. Kimmy is in this weird relationship where she's separated from her husband and how is that going to play out? Her daughter is dealing with, are my parents together or not? It feels more today.

How were you worried about the fact that Candace, Jodie, and Andrea hadn't done a sitcom in 20 years, and whether they were still going to like each other?       
[Laughs.] We'd all stayed very close all these years. Andrea and Candace are still really close; Jodie a little less so because she and Candace are really different people. But the chemistry you see in Fuller House is amazing. We definitely didn't really have that kind of chemistry on Full House at the beginning; it evolved over time. These are 30-year friendships. That all said, I was really nervous about them doing a sitcom again. Are they going to have the timing? I even offered them an acting coach and they were like, don't worry, we got it. They were on fire from the first table read. It's like they never stopped.
Also, one less worry this time around: ratings. You're on Netflix!
[Laughs.] Yes, but I want to know the numbers! That is definitely going to drive me nuts.
This interview has been edited and condensed.