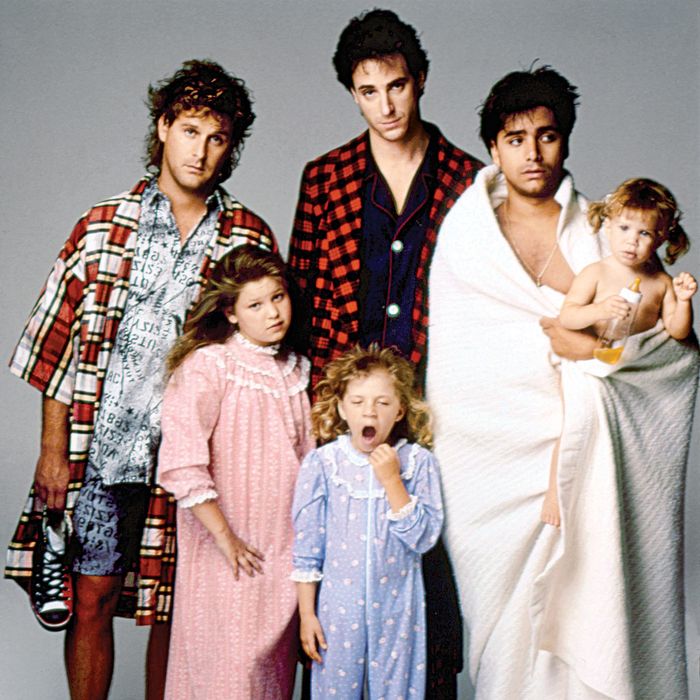 Fuller House premieres on Netflix this month.
Photo: ©Warner Bros/Courtesy Everett Collection
The obsession with reboots has certainly been a boon for fans. To hear Full House's Dave Coulier (the wisecracking Joey Gladstone) and Jodie Sweetin (bossy middle daughter Stephanie Tanner), both of whom are back for Fuller House, make the case, it's been pretty good for semi-obscure actors, too.
Creatively, it's not icky.
Coulier: It's not a one-off reunion. We're not pretending this is 1995, when the show was canceled.
Sweetin: We — that's [creator] Jeff Franklin and some of the cast — had been doing pitch meetings, and we knew that Netflix was looking for family-friendly television. We had a meeting with them, and I thought it went great. Had we come back and tried to make it an '80s sitcom again or a reunion, I think we all would've been hesitant.
Coulier: [Co-star] John Stamos is the one who'd been keeping me apprised of what was transpiring. He told me a deal was happening. I would have said no to "Can you come back wearing a mullet?"
Then there's the money.
Coulier: Netflix has more money than God! We didn't want to just give Full House away. We were like [to Netflix], "Look, everybody knows that there's great value here. In good faith, let's move forward with that feeling." The negotiation wasn't contentious. It was fair. Full House is like having a rare Bugatti come up for auction. You're not going to get that on the cheap.
Sweetin: Honestly, I was excited for the opportunity to work again. But don't get me wrong. It's a nice payday.
The show never really went away.
Sweetin: At the grocery store, I'll get, "Hey! Oh, wow, I watched you!" And my kids watch it, and they love it.
Coulier: We've never been off the air since we premiered in 1987. We're on, I think, a minimum of four times every single day on Nick at Nite. When we got canceled, we had 24 million viewers a week. The audience is huge — I look at Full House as a great play. It's like Pippin and A Streetcar Named Desire; people will come out in droves to see it.
Sweetin: It's a trip that people are still interested. It's weird when people are like, "Oh my gosh! I remember that episode when Stephanie did this!" Things I don't remember.
It's okay that the Olsens aren't back.
Coulier: Now Mary-Kate and Ashley are running this clothing empire. I get it. I don't know how much I could reconnect with something I did when I was in diapers. But I think we were all a little disappointed, because it would've been nice to be together again with them.
Sweetin: I had a feeling they might not want to come back and do it.
Coulier: We all understood where they're at in their lives.
Sweetin: It was never anything where we got our hopes up.
Coulier: They have an open invite to do the show.
The Fuller House bump.
Coulier: Stand-up is all about putting asses in seats, and there's been a flood of media exposure for me. People are discovering that I'm a real-life stand-up [and didn't just play one on the show]. So, in a very roundabout way, I'm saying that, yes, Fuller House changes things. Tremendously.
Sweetin: I have buzz.
******
Fuller House premieres February 26 on Netflix. 
*This article appears in the February 22, 2016 issue of New York Magazine.