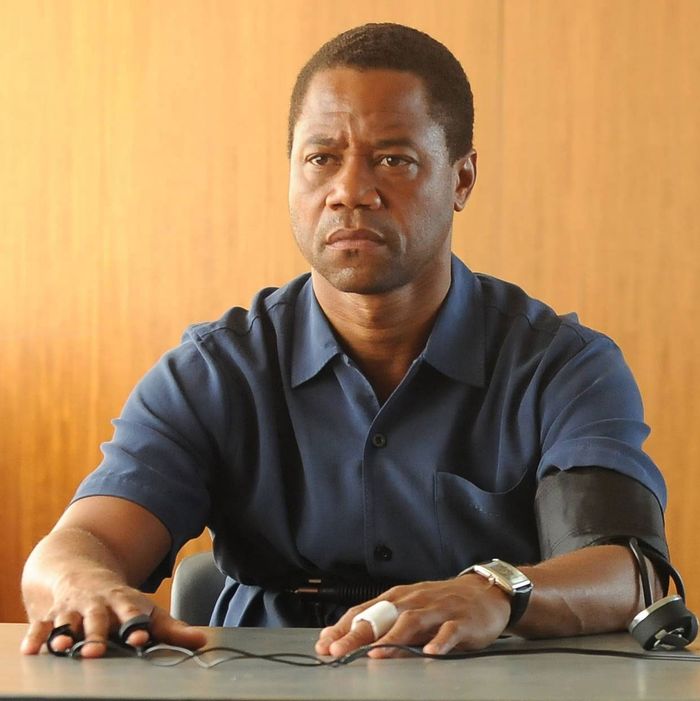 L-R: Cuba Gooding Jr. and Joseph Buttler in The People v. O.J. Simpson.
Photo: Ray Mickshaw/FX
It was 2013, and FX and its longtime creative partner, Ryan Murphy, were mulling an American Horror Story spinoff that would focus on true crime. But dramatizing true events can be tricky, and they were having difficulty landing on the right story. Months rolled by, and Murphy's The Normal Heart came and went on HBO; Murphy entered a "postpartum period," keen to work on another challenging project. He tabled his idea of a true-crime series and asked his agents to send him any solid script that was not getting picked up. One of them was in the hands of producers Brad Simpson (World War Z) and Nina Jacobson (The Hunger Games), who had bought the rights to journalist Jeffrey Toobin's best-selling book The Run of His Life: The People v. O.J. Simpson, and hired screenwriters Scott Alexander and Larry Karaszewski, co-writers of The People v. Larry Flynt, to adapt it into a mini-series for television.
"I remember saying, 'Oh God, really? Haven't we heard enough of that?'" said Murphy, recalling when his agent told him he was going to send him Alexander and Karaszewski's first two scripts. "I was a real devotee of that trial, and I thought I had an exhaustive knowledge of [it]." But the scripts won him over, and FX agreed to make it the first installment of the new American Crime Story anthology series (season two will focus on Hurricane Katrina). "The thing that I loved about [the scripts] is they were incredibly smart and had an incredible wealth of knowledge that I didn't know about this case, particularly the lawyers involved."
"For a case that's 20 years old, there are still a lot of spoilers," quipped Karaszewski, co-creator of The People v. O.J. Simpson: American Crime Story, which premieres tonight on FX. The series — the most anticipated show of 2016 yet — has already picked up glowing reviews and seems perfectly poised to resonate with audiences. It recontextualizes the polarizing 1994–1995 case, and yet it feels remarkably modern thematically, from its true-crime narrative to its racial undertones. "What none of us could have known was how topical it would seem," Toobin said, "to have this story about race and the criminal-justice system come out in the wake of Ferguson and all the other cases. If you want to understand how African-Americans feel about the criminal justice system, this series is a good introduction."
Toobin's 1996 book outlines in edge-of-your-seat detail how race — not guilt or innocence — became the most influential issue in the case, and the role it played in the jury's acquittal of Simpson in 1995. But it also offered an intimate look into the lives of all of the players, lawyers like Marcia Clark and Johnnie Cochran, who became icons in their own right. Among the details Murphy was surprised to learn: Lead defense attorney Johnnie Cochran experienced unfair treatment at the hands of LAPD himself, and lead prosecutor Marcia Clark was a single mother going through a difficult divorce during the trial while confronting sexism in the workplace and in court.
"Nobody was a villain and no one was a hero," said Murphy, whose involvement helped lure the show's A-list cast, including Cuba Gooding Jr., John Travolta, David Schwimmer, Sarah Paulson, and Courtney B. Vance. "They were just human in the scripts, and I loved the opportunity to show all of the people on both sides as human."
The larger framework for the anthology series is established in the premiere's opening minutes, which plays archival footage of incidents that took place three years before Nicole Brown Simpson and Ronald Goldman were murdered outside her Brentwood condo: the Rodney King beating, the acquittals of the police officers involved, and the riots that erupted in Los Angeles as a result in 1992.
"It was kind of crazy to kick it off that way because, technically, it has nothing to do with the O.J. Simpson murder trial," co-creator Alexander said. "But we wanted to say, it's all about race, dummy. It was a case about two innocent victims on Bundy, and it morphed into a referendum on the LAPD. Ultimately, this is what the show is about. Everything else is really interesting, but everything else is secondary."
To begin the daunting task of compressing 18 months of well-worn events into a dramatic series, Alexander and Karaszweski read Toobin's book. Then they read it two more times. Then they read books authored by other participants in the trial, every article they could find, and watched archival footage. Through their research they learned, for example, that Darden thought of Cochran as a mentor before the trial.
"What we found was that by investigating the personal lives of these characters, it made everything so much richer," Alexander said. "And it made it a story of Los Angeles and America, and not just about the trial — what this whole city was going through at the time. When in doubt, though, we always went back to Jeff."
After they completed their outline and wrote the first two scripts, Alexander and Karaszewski hired four writers and structured episodes around themes: police and race, the advent of the 24-hour news cycle, the beginning of reality television, gender politics, socioeconomic differences between civil-servant prosecutors and criminal-defense attorneys. If their story has a plot, Karaszweski said, it is how the case fell through the prosecution's fingers.
"When people talk about the case, they do discuss race, and obviously we discussed race quite a bit, too," Karaszweski said. "But we also discussed class — the idea that the defense team is made up of people who are very wealthy and Marcia and Chris are not. Very rarely has this case been looked at through gender. The stuff that Marcia Clark had to go through is very different than what the male lawyers do. F. Lee Bailey never had to wake up and see a magazine making fun of his haircut or say that he's frumpy or argue, can't he just relax a bit?"
When it came to establishing tone, the creators stuck to what they knew — a well-paced combination of high drama and satire in the vein of Dog Day Afternoon. "It's a trial about a celebrity accused of murdering two innocent people," Alexander said. "It's a very serious story, but Larry and I approach all of our biopics by throwing in a lot of comedy to levy the seriousness along the way and have fun with the characters."
To that end, a couple of amusing scenes involving the Kardashians as children are completely imaginary, but they're executed with a wink, Karaszweski said. "As a journalist, I would never write a scene like that unless I had sources that said that scene took place," Toobin said. "But this is a dramatization, not a documentary. As a participant in this project, I thought it was vivid and real and terrific that [Robert Kardashian's] character could be explored in that way." Played by Schwimmer, the late Kardashian was Simpson's loyal friend who became a household name when he read the football star's alleged suicide note on national television.
The writers and producers chose to leave Brown Simpson and Goldman out of the story as characters — their gruesome murders are not depicted, and neither one of them is portrayed while still alive. In recent days, the families of the victims have protested that producers did not consult with them on the project. It's a perspective that often gets lost in the true-crime series that have become a recent national obsession, from the Serial podcast in late 2014 to Netflix's jaw-dropping Making a Murderer. "We never wanted to feel like we were exploiting the victims," Jacobson said of leaving them out. "There's a line in the series in which Ron Goldman's father says, 'My son has become a footnote in his own murder,' that speaks very much to the way in which they were not given justice in terms of how the case was about everything but them, and how painful that was."
Ultimately, the creators kept their focus on presenting the case as it unfolded — with 20 years' worth of perspective — in hopes that viewers will see nuance in the trial that became a televised circus.
"I may not have changed my point of view about the evidence, but I understand the narrative that was built by the defense, and why the jury found the narrative compelling in a way that I just didn't 20 years ago," FX Networks CEO John Landgraf said. "I suspect that just as much as I'm better able to understand, humanize, and sympathize with the point of view of those who thought he was innocent, many people who thought he was innocent will be better able to see and perhaps empathize with those who thought he was guilty. Best-case scenario: If we can see a little bit more nuance in the O.J. case, maybe we can do the same on issues that are more burning right at the moment."
Additional reporting by Josef Adalian.