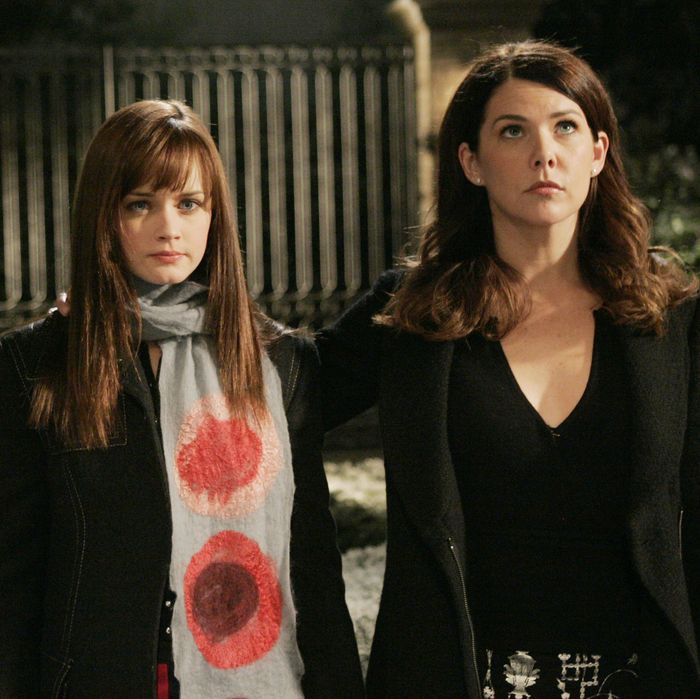 Welcome back, Gilmores.
Photo: Scott Humbert/Getty Images
Start brewing the coffee and upping your pop-culture game, and cue the "la la la"s: Stars Hollow's fast-talking, madcap mother-daughter duo, Lorelai (Lauren Graham) and Rory (Alexis Bledel), are coming back for Netflix's revival of one of TV's most beloved series, Gilmore Girls. Rumblings of a reunion show took root when more than a dozen original cast members showed up to celebrate the series' 15th anniversary at the ATX Television Festival in Austin, Texas, last June. Turns out show creator Amy Sherman-Palladino had already pitched the idea for four 90-minute movies that May: "We didn't really want to do a reboot," she told TVLine after the news was announced. "We wanted to do something a little special. I love Sherlock … and their format … So we thought, 'Why don't we do something like that?'" Now everyone's favorite purveyors of sparkling repartee, their no-nonsense nana, Emily (Kelly Bishop), plus assorted Stars Hollow neighbors — cranky Luke Danes (Scott Patterson), Rory's bestie, Lane Kim (Keiko Agena), and oddball Kirk Gleason (Sean Gunn) — have found new life in those four 90-minute episodes, written and directed by Sherman-Palladino and her husband, Daniel. (The two were famously left behind amid botched negotiations before the original show's seventh and final season in 2007.) Set in present-day, each installment will take place during a season — "Winter," "Spring," "Summer," and "Fall."
Here's all we know about the highly anticipated revival that may have the four-word ending Sherman-Palladino intended the first go-round.
The setting.
A few set photos have made their way online, showing the Stars Hollow we know and love intact. Sherman-Palladino has said that like the original pilot, the new show's first episode, "Winter," will have Lorelai, Rory, and Emily each at a crossroads in their lives. Though she and her husband have only seen snippets of the controversial final season, she says the plot will pick up where that story left off. After opening in a seasonally appropriate "starker environment," Sherman-Palladino told TVLine, the final episode will have "a lusher, warmer, golden-y town, which lends to where the story will end."
Rory and Lorelai's love lives.
TVLine's Michael Ausiello seems to have read a script or two, hinting that one of the main characters — Lorelai, Rory, Emily, or Luke — "will be getting a new love interest." On a Rory romance, Sherman-Palladino confirmed that she's single ("in the sense that she's not married") but will be "dating like any young woman with that face would be." And that certain story lines — "one of which involved one of the boys" — had to be rejiggered because of the budget. As for Lorelai's love life, so far, her only confirmed male companion is Paul Anka.
Get ready for lots of Stars Hollow status updates …
In addition to learning what the Dragonfly Inn owner and her journalist daughter have been up to since we saw Lorelai kissing Luke and Rory jilting Logan Huntzberger and heading out to cover Obama on the campaign trail eight-plus years ago, we'll catch up with their family and friends.
Emily Gilmore (Kelly Bishop)
Though the caustic Connecticut matron is now a widow — actor Edward Herrmann's death in 2014 means family patriarch and retired insurance exec Richard Gilmore won't be part of the show — Bishop says Richard's presence will be keenly felt. "Winter" begins four months after his death, with Emily "kind of a raw nerve," who, in a "desperate attempt to push through" her grief, Bishop said, "blows between right on the edge of losing it to almost being a little manic." But her relationship with Lorelai will likely improve: Graham says they have "some really nice story together. And there's definitely some resolution that we didn't get [before]."
Luke Danes (Scott Patterson)
The diner's open for business, but little's known about what's cooking between the Stars Hollow hometown boy and Lorelai — besides the pancakes and burgers Caesar (Aris Alvarado) will be serving up.
We left off with the couple back in the diner the day after Lorelai's thank-you-for-Rory's-party kiss. According to IMDb – which should be noted is not always a reliable source for episodic information – Luke is spending all four seasons in Lorelai's vicinity. As to whether they're living together, shippers went a little crazy when a Facebook post with a photo of a box labeled "Int: Lizzy's and Luke's House" appeared, indicating he might be living with his sister, Liz. But Kathleen Wilhoite, the actress who played her, refuted that idea.
News that Luke's sixth-season surprise daughter April Nardini (Vanessa Marano) would be returning left some fans less than thrilled. So far there's no word on April's mother, Anna (Sherilyn Fenn).
Christopher Hayden (David Sutcliffe)
Not  much is known about Rory's dad and Lorelai's ex. But IMDB indicates he'll be spending "Winter" in proximity to his family.
Lane Kim Van Gerbig (Keiko Agena)
When we last saw the rock-music-loving drummer girl, she'd opted to stay home with twins Stevie and Kwan when her guitarist hubby Zack Van Gerbig (Todd Lowe), got a gig in California.
One of Zack's Hep Alien bandmates, bassist John Cabrera (Brian Fuller), is also returning, but no word on whether he's living with the couple, and their now-9-year-old twins, who are among the show's new characters. Of course Lane wouldn't be complete without her tightly wound, Über-religious mother, Mrs. Kim (Emily Kuroda), will be back as well.
Paris Geller (Liza Weil)
Did Rory's Chilton and Yale classmate make it to medical school and become a doctor? Though she once tried to dump Doyle McMaster (Danny Strong), she and the onetime college-newspaper editor may still be a thing.
Bishop says Paris 2.0 "is a hoot," and "it's unbelievable what Amy has written for [her]. People are going to have so much fun with it." According to IMDB, the couple is slated to appear in "Winter."
Dean Forester (Jared Padalecki)
Rory's first love, whom she slept with while he was married, will also be back. But it seems only for "Winter."
Logan Huntzberger (Matt Czuchry)
Richie Rich went off to California after Rory dumped him and is now a high-powered West Coast lawyer, and, it appears, will be in the same episode as Dean.
Jess Mariano (Milo Ventimiglia)
When we last saw Luke's leather-jacketed writer nephew — a.k.a. Rory's brooding second boyfriend — Rory had gone to a party at the publishing house where he worked and kissed him to make Logan jealous. Could Jess now be back in Rory's life? There's reason to hope so: IMDb has Ventimiglia listed for three seasons: "Winter," "Spring," and "Summer."
Kirk Gleason (Sean Gunn)
The town eccentric who mostly lived with his mother finally found love with his brother's ex, and was last seen DJing at Rory's bon voyage party, is back and dreaming of pie.
Michel Gerard (Yanic Truesdale) You can be sure the Celine Dion–loving, imperious French concierge and Lorelai's right-hand man at the inn will be annoyed about everything for possibly all four seasons.
Finn (Tanc Sade)
The offbeat Aussie who, with Logan and Colin, was a member of Yale's secret Life and Death Brigade will be spending some time around Stars Hollow.
… and some townie sightings.
Gypsy (Rose Abdoo), Stars Hollow's auto mechanic, plus thick-as-thieves gossips — dance teacher Miss Patty LaCosta (Liz Torres) and Lorelai's well-meaning neighbor Babette Dell (Sally Struthers) — will be seen around the square. So will Luke's least favorite person, market owner and self-appointed town boss Taylor Doose (Michael Winters). All of them are listed only for the "Winter" episode, along with everyone else.
But other Gilmore nearest and dearest are, so far, MIA …
Sookie St. James (Melissa McCarthy)
We don't know how the absence of Lorelai's spunky best friend, chef, and co-owner of the Dragonfly Inn will be explained. But earlier this month, Sherman-Palladino was still holding out hope that McCarthy would make an appearance, no matter how brief. Then the actress announced she wasn't asked to return, which would also seem to mean Sookie's produce-loving husband and the father of her three kids, Jackson Belleville (Jackson Douglas), is also in the wind.
But then this photo showed up with theories about its meaning – could someone else have moved into Jackson and Sookie's home?
Update (2/22/16): Jackson Henry, who plays Jackson on Gilmore Girls, announced via Twitter that he will indeed be returning for the revival. Sookie's absence remains unexplained.

Gil (Sebastian Bach)
Though we know some Hep Alien rockers are reprising their roles, so far, all Skid Row's Bach has said is "it would be neat" to be asked back.
Tristan Dugray (Chad Michael Murray)
Tristan, Rory's Chilton classmate and relentless flirt, hasn't been seen since his father shipped him off to military school. Besides, he's busy bossing around Agent Carter.
(Here's a list of other onetime cast members who may not have made the cut.)
There will also be new faces in Stars Hollow.
Sutton Foster, who previously starred in the Sherman-Palladino-led Bunheads as ex-Vegas showgirl Michelle Simms, will appear in Stars Hollow. But will she dance with Miss Patty? TVLine wonders if she'll show up as Simms …
E! Online also reports on other new faces entering the Stars Hollow scene: There's Paul, a 30-something "Michael Cera type described as 'a good boyfriend'"; Jim, a mature men's-magazine editor; Dwayne, a working stiff; Damon, a handsome 20-something; Peruvian couple Berta and her handyman husband, Alejandro; curmudgeon Nat Compton; Portuguese nanny (for Lane's twins?) Clementina; plus kids Dewey, 13; Tim, 7; and his sister Gabriela, 5; and "a whole bunch of hippies at a commune." Check TVLine for future cast info.