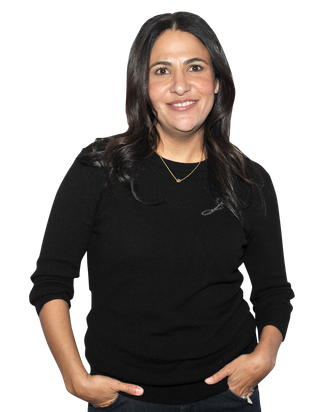 Photo: Sonia Recchia/Getty Images
The end of Girls' fourth season was like a fairy-tale ending. Hannah (Lena Dunham) got over Adam (Adam Driver) and fell in love with her fellow teacher Fran (Jake Lacy). Marnie (Allison Williams) finally got the marriage proposal she always wanted. Shoshanna (Zosia Mamet) moved to Japan for a fulfilling job. And Jessa (Jemima Kirke), poor, messy Jessa, finally seemed to get her act together. There was a feeling in the air that they couldn't hold on to this happiness forever.
But as season five sets off at Marnie's wedding, they're all still living ever after, and mostly happily. Showrunner Jenni Konner, who executive-produces the show alongside Dunham and Judd Apatow, says this is her favorite season so far, and that this is the year the girls are finally going to get it together. With only the fifth and sixth seasons left before the show comes to a close, Konner opens up about the final chapters and how she feels about all of those internet think pieces about her show.
Tell me about season five — what's new and exciting about it?
First of all, it's my favorite season of Girls, and I've never said that before. It really is. I can't articulate exactly why, but I just love it. One of the things I'm the most proud of is that Elijah finally has a real romantic arc, with Corey Stoll. He's wonderful, and I think Andrew Rannells is one of the most talented people in the world. We knew that already because he [was up for] a Tony for singing and dancing, and I know that everyone knows he's the funniest, but I don't know if they know how vulnerable he can be. The story, I've seen it 8,000 times in editing, and it makes me cry every single time. That's one of my favorite things.
Watching the first four episodes, the show seems much more focused. Everyone has their story, and they're going toward that over the episodes. Was that intentional?
The thing that was intentional is that it was like, Okay, this is the season when they actively try to get their shit together. This season they're all like, "Maybe we're a bit old to be fucking around so much." So that is translating into the way we're telling the stories.
Did you ever have that I-need-to-get-my-shit-together moment?
I did have that moment. I had a job at the Tribeca Film Festival for Jane Rosenthal, but I was really Hannah. I can't believe she kept me around. When I think about that job, all I did was take writers out to lunch and say, "What is your job like? What do you do all day?" I was so useless. When I quit that job and decided I was going to try writing, and I was waitressing while I was writing, that was the moment when I was like, "I have to do the thing that I want and give it a shot." I really am grateful to Jane for not firing me.
I am shocked Hannah manages not to get fired when she's around Brooklyn children, which are America's most precious resource.
And the fact that she doesn't get arrested is also amazing.
You recently announced that season six of Girls will be its last. Are the wheels already in motion with how the ending is going to work?
They certainly are. We know the end. We just laid out the general ideas of the season. We do this every year: Me and Judd and Lena get together before meeting with the writers. We sat and went through everything, and figured out how it's going to end. It's a very bittersweet process. We want to get out while the getting is good. People still care about us and talk about us, and being a part of the conversation is amazing, and so we want to really find it.
You mentioned that it's part of the conversation. I always joking refer to Girls as a Think Piece Factory.
I know. We are so lucky. The [fact that] in the fifth season people are still interested. I feel really fortunate.
Do all of those internet pieces have any impact on the show?
You know, the thoughtful ones do. There are critics we really love, I really like Willa Paskin and Emily Nussbaum and Alan Sepinwall, and sometimes they'll have a criticism that will be said in a very thoughtful way, and it will affect us. We never make a 180 on something because of it. But in the first season, the conversation about race totally changed the way we did the rest of the show. We heard the criticism and we addressed it, and now [we do] even more in our future work. We'd never make that mistake again.
I was noticing that you see a lot more minority characters in all sorts of roles.
And in future roles we do, you're not going to see four white people on a poster again. That won't be our reality.
Now we're in the middle of #OscarsSoWhite, so you beat everyone by years.
The crazy thing is how the movies are so far behind television in terms of diversity. Even diversity of females. There are so many more female showrunners that are women. And a female director can't get arrested in movies. This was like seeing it in stark relief. Usually change happens from some awful mistake. We're now at this moment and I hope the change is beginning.
It took us a few years to get to this place with the Oscars — why do you think it was happening with Girls years ago?
It's funny that one thing my boyfriend, Richard Shepard, who is a director on the show, said is that you never would have had these problems if you called it Girl. It's like you were taking on too much. Whenever there's a show that affects people and they talk about it, they will talk about every part of it. And that was our weakest link. Everything comes to the forefront when you're being talked about. You don't skim over anything. It's every detail.
The things I think people are going to talk about, they don't even blink. And the things they do — [for example] in season one, the conversation about Shiri Appleby's story and whether or not it was rape, I didn't think in a million years that was a rape story. I thought it was gray, but I didn't see it as rape, so the fact that people had such a strong reaction completely surprised me. Anything I say will be a shock to people, I am wrong [about]. You know on Seinfeld when George decided to do everything the opposite? That's me.
Is there anything among those discussions that really upset you?
Not really. Again, it's such an honor to be talked about. To me, the worst thing in the world is to put on a show and no one talks about it. That is my fear. Those are the nightmares that wake me up in the middle of the night. That you put on the show and people are like, "I never heard of that."