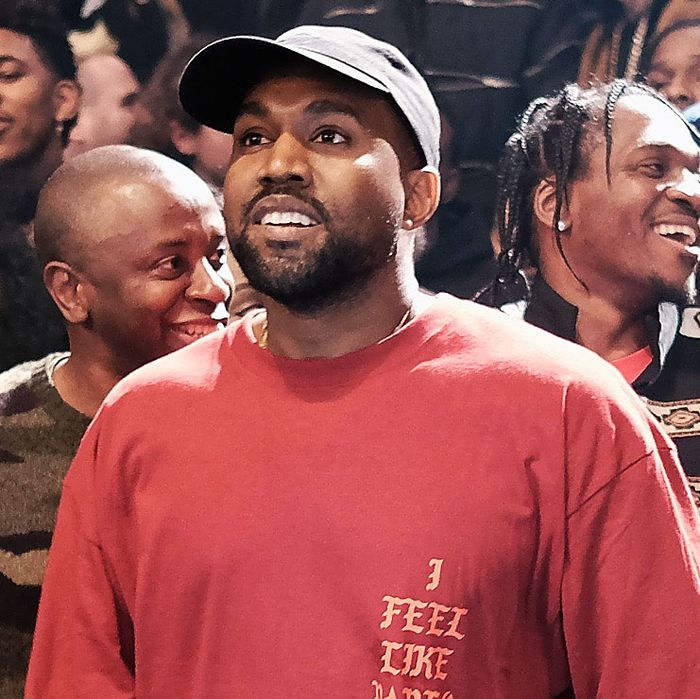 Kanye West performs during Yeezy Season 3 on February 11, 2016 in New York City.
Photo: Dimitrios Kambouris/Getty Images
Kanye West's bizarre promotional circus for The Life of Pablo has seemingly died down (for now), so how do we unpack this beast? It's hard to know where to even begin, given his onslaught of confusing tweets, mixed messages about when the album would actually see the light of day, and extra-bold claims for how it would turn out. Is the album even finished now that it's on Tidal? Who made this thing? And what does it all mean? Here's the Life of Pablo FAQ you'll need to process Kanye's latest ultralight beam.
How the hell did we get here?
In one of the more unconventional album rollouts of the decade, Kanye spent more than a year teasing his new album — dropping "Only One" on New Year's Eve last year — only to complete the marathon with a slapdash road to the finish line. 2015 came and went with nary an album in sight — just a slew of possible singles that were debuted at his fashion shows but never officially released. Until early December, when Kanye made what was then a rare Twitter appearance to say (in all caps, of course) that he was finishing the album and not to ask him for anything until it was complete. Fair enough. A month later, Kanye revived G.O.O.D. Fridays, first with "Facts, then with "Real Friends" and eventually "No More Parties in L.A.," signaling that Yeezy SZN had begun. Finally, on January 8, he announced the album would arrive on February 11.
Here's where things get complicated: A couple days later, Kanye tweeted about not wanting to work with anyone who won't take his calls at 3 a.m., hinting at the all-nighters required to get the album ready. Three weeks away from the album, he started sharing photos from inside the studio with Swizz Beatz and Def Jam executives, along with our first glimpse of the most important document of the century, the legal pad containing the album's track list and the signatures of everyone who worked on it. It started out traditional — ten songs, and a tag from sister-in-law Kylie Jenner — but boy, did that thing ever get out of hand. Shortly after Kanye declared album No. 7 "album of the life," that legal pad ballooned with dozens more scribbles and four track list changes, up until the day after the album was due. (He also tweeted a mock Rolling Stone cover with him on it, photographed by Tyler, the Creator, which fooled enough people for RS to have to publicly deny its authenticity.)
On February 11, Kanye delivered not the album's actual release, but its debut at a Madison Square Garden listening party. It was about as DIY as it gets, played from his personal laptop from an aux cord. By the day's end, everyone had heard the album but no one could listen to it again because it still wasn't available for streaming or download. On February 12, Kanye shared an updated track list (with nine more songs than what he started with), saying it was still being mastered, and shared another new G.O.O.D. Friday song, "30 Hours." Still nothing — until Kanye told fans the next day to #BlameChance (as in Chance the Rapper) for delaying the album so "Waves" could be added. Finally, after a handful of false starts, Kanye released The Life of Pablo on February 14, announcing on Saturday Night Live, after the end of his second performance, that the album was already live on Tidal and kanyewest.com. Of course, even the actual release was not without hiccups. It wasn't until about an hour after SNL ended that the album actually went live on Tidal (but not on his site); only, at first, "Facts" was repeated on both the stream and download.
But even with the album out (and now reportedly pirated more than 500,000 times), the rollout still isn't over. How can a finished album still not be finished, you ask? Well, according to Kanye, it still has a few kinks he'd like to work out — he now says he plans to "fix" the song "Wolves" and withhold the album from retail and all streaming services except Tidal (as well as release all future G.O.O.D. Music songs on Tidal). Fans who purchased tickets to his MSG event, which came with a complimentary download for the album, were reportedly been notified that the album available on Tidal now is a "partial version," and that a final version will be released "sometime this week." On Thursday, a handful of TLOP demos leaked online, including original versions of "Wolves" (with Frank Ocean, Sia, and Vic Mensa), "All Day" (with Kendrick Lamar), "Waves," and more, as well as a song with Justin Vernon.
On March 15, Kanye officially "fixed" "Wolves" (at least for now), re-adding Sia and Vic Mensa and breaking up Frank Ocean's part into a separate 38-second song called "Frank's Track." On April 1, TLOP became available for streaming everywhere and for download on his site and Tidal. After previously withholding initial numbers from Nielsen, TLOP then became the first album to go No. 1 on Billboard primarily from streams.
On June 15, The Life of Pablo briefly disappeared again from Tidal, later reuploaded with a new closing track: "Saint Pablo," a song featuring Sampha that had previously leaked. The day prior, Kanye had announced his Saint Pablo tour in support of the album.
Are you feeling dizzy yet? Wait, there's more!
Pablo, who?
For a while, it seemed like Kanye's album might remain untitled even when it was finished. What started out as So Help Me God later became Swish, which turned out to be just a working title until he settled on Waves — or at least we thought he did, until Kim created a Twitter poll asking people to pick the best of the three, suggesting it may change again. Then Kanye played the guessing game, challenging fans to figure out what the new title T.L.O.P. meant. Shortly before its Madison Square Garden debut, he announced The Life of Pablo (which, for all we know, might change again).
On "No More Parties in L.A.," Kanye introduced this Pablo character: "I feel like Pablo when I'm workin' on my shoes / I feel like Pablo when I see me on the news / I feel like Pablo when I'm workin' on my house." Reddit theories will tell you he's either referring to Pablo Picasso, Pablo Neruda, or Pablo Escobar. All of those might still be true (Kanye has long credited Picasso as an inspiration), but Kanye seemed to deliver some cryptic answers with several tweets about Paul the Apostle, saying, "All memes are wrong … The Life of Paul … The Life of Pablo." (Saint Paul is commonly known as San Pablo.)
He said what?!
Ah, controversy, Kanye's most reliable form of currency. Ye has never missed an opportunity to grab headlines, and a few verses on his latest album — not to mention some tweets — haven't disappointed. Even before the album dropped, Kanye's "BILL COSBY INNOCENT !!!!!!!!!!" tweet-vomit (which he still hasn't deleted) stoked the fires of outrage. And nothing he says on this album has a chance of putting it out: On "Famous," he reignites his beef with Taylor Swift, saying, "I feel like me and Taylor might still have sex / Why? I made that bitch famous." And while he might think Taylor was in on the "joke," even claiming it was her idea, her shade-filled Grammys speech certainly killed that notion.
Slightly less controversial, but still enough to make people angry for its, uh, "term of endearment" for women, is this gem from "Highlights: "I bet me and Ray J would be friends / If we ain't love the same bitch."
"FML" has yet to be noted for what sounds a lot like admissions of infidelity, but another line on the song has definitely let imaginations run wild. At one point, Kanye says, "You ain't never seen nothing crazier than / This nigga when he off his Lexapro," referencing the antidepressant. That, coupled with mentions of therapy on "No More Parties in L.A." and his sporadic tweeting, have prompted some, including Kanye's former writing partner Rhymefest, to question Kanye's mental health.
Who's Desiigner?
Who isn't featured on Pablo might be the better question — but as usual, those trusted few who were invited to Kanye's party (not in L.A.) brought their best. Kanye blamed Chance the Rapper for the album's umpteenth delay, and it seems he made Chance one of his closest confidants on the project. Chance appears on "Ultralight Beam" (a song he also co-produced), with the best guest feature on the record. It's more or less Chance featuring everyone else ("This is my part, nobody else speak," he raps at one point), and even involves his Surf collaborator Donnie Trumpet. Chance also co-wrote "Waves" (the song he fought to save),  "Feedback," "Famous," and "Father Stretch My Hands Pt. 1" — so start speculating now about whether he wrote that eyebrow-raising line about anal bleaching.
In keeping with the album's gospel theme, Chance, Kendrick Lamar, and Brooklyn rap upstart turned G.O.O.D. Music signee Desiigner are the only rap features on the album. (Though we suppose you could count Max B's prison phone call interlude with French Montana on "Silver Surfer Intermission" as one, too.) The rest of the guests (even Kid Cudi, Young Thug, and André 3000, who are technically rappers) are here to sing, and that includes Frank Ocean (!), Rihanna, the Weeknd, Chris Brown, Ty Dolla $ign, Cudi, Three Stacks, Thugger, Post Malone, Pulitzer Prize winner Caroline Shaw (she's the Imogen Heap–sounding voice at the end of "Pt. 2"), The-Dream, El DeBarge, and R&B great Kelly Price. The only exception is Kirk Franklin, a gospel musician who gives a spoken-word sermon midway through "Ultralight Beam."
How involved even was Kanye on this thing?
Obviously, Kanye is listed as executive producer on Pablo, but he's far from the only beat architect involved. He's joined by his Yeezus adviser Rick Rubin and longtime engineer Noah Goldstein — both credited here as co–executive producers — as well as another usual suspect, Mike Dean, who mastered the album. As for individual song producers, we have quite the #squad: Swizz Beatz co-produced "Ultralight Beam" and performs his usual ad-libs ("Whoo! Goddamn") on "Famous," while Future's go-to producer Metro Boomin co-produced  "Waves," "FML," and "Father Stretch My Hands." Metro, on the latter, even receives a very rare producer tag ("If Young Metro don't trust you, I'm gon' shoot you") on a Kanye West album. Several legends were involved: Mobb Deep's Havoc co-produced "Famous," and Madlib produced "No More Parties in L.A.," reportedly for the My Beautiful Dark Twisted Fantasy sessions. No I.D. is credited as Def Jam's A&R on the album.
Other notable names: Hudson Mohawke co-produced "Waves" — a beat he confirms was on the scrap heap until a few weeks ago — as well as "Freestyle 4," "Famous," and "FML." Boi-1da co-produced "Real Friends" with Frank Dukes and Havoc. DJ Dodger Stadium (Jerome LOL and Samo Sound Boy) co-produced "Ultralight Beam," "Low Lights," and "Freestyle 4." Cashmere Cat co-produced "Wolves." And that Charlie Heat referred to in the "Facts" title? He's one of many in the G.O.O.D. Music camp involved on the album.
Is that Drake's uncle I hear?
It wouldn't be a Kanye West album without a murderer's row of samples. Once again, he's mixed the well-known with the obscure with … viral hits? Probably the most recognizable sample comes on "Famous," with a generous snippet of dance-hall icon Sister Nancy's "Bam Bam," a fairly overused sample in hip-hop also recently heard in The Interview. On the same song, Kanye also samples Nina Simone (her songbook has long been a source of sampling inspiration for Ye), having Rihanna sing "Do What You Gotta Do" and also sampling Nina's version in the outro. (Il Rovescio Della Medaglia's "Mi Sono Svegliato E … Ho Chiuso Gli Occhi" is also sampled on "Famous.") On "30 Hours," Kanye builds the bulk of the beat off a sample of Arthur Russell's "Answers Me," which André 3000 later joins in to sing. Elsewhere in the song, Kanye interpolates Nelly's "E.I." ("Ándale ándale, E.I. E.I., uh-oh") and "Hot in Herre" ("It's gettin' hot in hurr") enough that he had to credit their songwriters (including Pharrell). Kanye said "Facts" was a freestyle, and true to his word, he's acknowledged its inspiration, "Jumpman," giving Future and Drake writing credits and its producer Metro Boomin a production credit. (Street Fighter 2 and Father's Children's "Dirt and Grime" are also sampled on "Facts.")
On "Pt. 2," you might think you're hearing Future, but that's actually rising Brooklyn rapper Desiigner, on a prominent sample of his buzzing track "Panda." And much as we can imagine young Nori casting the devil out of Kris Jenner's mansion, that God-fearing little girl who kicks off the album on "Ultralight Beam" comes from a viral Instagram video — but in an unfortunate oversight, she's not credited for it.
"Father Stretch My Hands" takes its namesake from the Pastor T.L. Barrett song, also sampled here. The entirety of "Low Lights" comes from a sample, though, sadly, the identity of the woman delivering the spiritual interlude is unknown; it comes from Kings of Tomorrow's (a.k.a. Sandy Rivera) "So Alive (A Capella)." Goldfrapp's "Human" pops up all over the sex-crazed "Freestyle 4," and both Alison and Will Gregory received credit for it. Iranian singer Googoosh's "Talagh" appears on "Feedback." "Waves" samples Bronx rap group Fantastic Freaks' "Fantastic Freaks at the Disco." That muffled punk song that plays out "FML" comes from Section 25's "Hit." "Real Friends" interpolates Whodini's "Friends" (mainly the repeated question, "Real friends, how many of us?"). "Wolves" samples the late reggae singer Sugar Minott's "Walking Dub."
Two of the album's most sample-heavy tracks come in the bonus-track section (everthing after "Wolves," as indicated by the intermission, Kanye's line on "30 Hours," plus where he ended the album proper at its MSG debut) with "No More Parties in L.A." and "Fade." Once again, Kanye samples Ghostface Killa's "Shake that body, party that bod" line from "Mighty Healthy" (as he did on "New God Flow"), on "Parties." That song opens with samples of Johnny "Guitar" Watson's "Give Me My Love" and June Morrison's "Suzie Thundertussy," the latter which reappears as both a vocal and production sample throughout. Drake's uncle Larry Graham's "Stand Up and Shout About Love" is sampled toward the end. "Fade's" repeated intro ("Your love is fadin'") comes from the Undisputed Truth's "(I Know) I'm Losing You" and Rare Earth's "(I Know) I'm Losing You." The beat also contains house samples from Mr. Fingers' "Mystery of Love," Hardrive's "Deep Inside," and Barbara Tucker's "I Get Lifted (Underground Network Mix)."
Okay, but how did North and Saint help?
As with any Kanye West event, Pablo took a village (over 100 people!). And typically, there are a few quirky details hidden in the official credits, as per Kanye's site. Following a long rap tradition of ensuring your children get paid off your albums for life, Kanye has credited both of his kids, North and weeks-old Saint, as creative consultants. (Do we think Nori consulted on which fabric she'd prefer to be covered in on "Wolves"?) They're in good company with Kanye's longtime barber, Ibn Jasper, Been Trill co-founder Heron Preston, Kanye's publicist, and more in his inner circle.
The credits list a number of locations where the album was recorded — Santa Monica, Calabasas, North Hollywood, Mexico, Soho, Florence — but none is more amusing than "Abel's Crib (Trump)," a reference to one of Donald Trump's hotels, where the Weeknd apparently lives (he has praised the Toronto location before) and likely recorded his part on "FML."
Drake took a lot of heat over the last year for ghostwriting, but will Meek Mill come for Kanye, too? Aubrey's listed as a co-writer on "30 Hours," though he doesn't appear on the track, and none of his songs are sampled or interpolated on it, like two of Nelly's are. (Kanye now also says Drake "helped" with "Father Strech My Hands," though he isn't credited on it.) In the past, Kanye has used reference tracks from other rappers (like Kendrick on "All Day"), so it's entirely possibly he did the same here with Drake. Or maybe Drake just happened to be in the room, comparing pool specs, at the time the song was being made — who knows!