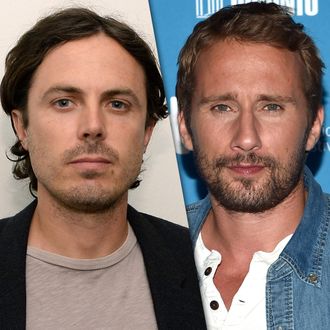 Casey Affleck and Matthias Schoenaerts.
Photo: Alberto E. Rodriguez/Getty Images and Dimitrios Kambouris/Getty Images
In every adventure, there is a moment when our heroes must pause to survey the treacherous road ahead of them and consider, if even for a moment, whether they should turn back. HBO's Lewis and Clark mini-series reached such a point today, with the network telling THR it was "redeveloping" the six-episode series, which had already begun shooting last year. Production was halted after the project lost both its director and cinematographer to "creative differences" — the dysentery of any period piece — and HBO now says that writer Michelle Ashford is working on a new draft of the script, which will have to be green-lit again before the show is to press forth. Even if it does, the multiple episodes already in the can may have to be scrapped completely, and roles possibly recast. That's bad news for Casey Affleck and Matthias Schoenaerts, who were playing the titular pair, but there is a silver lining — if The Revenant is any indication, on the chance this thing does end up getting finished, everyone involved is going to have one hell of a press tour.