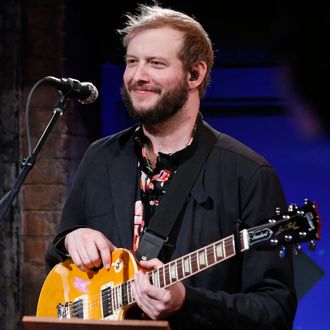 How thoughtful.
Photo: NBC/Getty Images
Justin Vernon's gearing up for his second Eaux Claires Music Festival — where last year, Bon Iver debuted two new songs — and to get fans pumped for all those sounds of summer sadness, early ticket-buyers have received a cassette compilation of artists expected to perform. Naturally, Bon Iver are on it, and they've shared what Vernon has described as a "very old" (but not so old that it predates their debut album) unreleased track called "Haven, Mass." It's steeped in the band's usual melancholy (obviously, the lyrics reference rain) and, according to Vernon, was recorded around 2009 or 2010. Thanks to someone who owns one of Earth's last cassette players, you can hear a rip of it below.
Also on the tape (which someone has ripped entirely) are songs from Vernon, Shabazz Palaces, Jon Hopkins, the National's Aaron Dessner, and, most intriguing, Fall Creek Boys Choir — which you may remember as the name of a 2011 song from super-harmonizing duo Justin Vernon and James Blake. Hint hint hint!