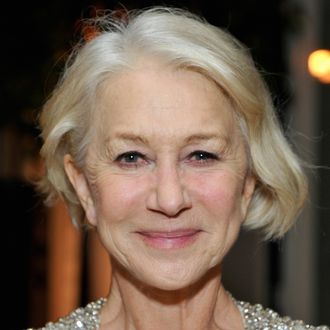 Helen Mirren.
Photo: John Sciulli/Getty Images
Helen Mirren, who was nominated for a SAG Award this year for her work in Trumbo, but was not nominated for an Oscar, has decided to defend the Academy admist anger over its lack of diversity. In an interview with the U.K.'s Channel 4 News, Mirren said, "I think it's unfair to attack the Academy. It just so happened this year, it went that way." As an example, she talked about Idris Elba, who was also nominated for a SAG Award (which he won) and left out of the Oscar race. "Idris Elba absolutely would have been nominated for an Oscar," Mirren said of his work in Beasts of No Nation. "He wasn't because not enough people saw, or wanted to see a film about child soldiers."
When asked if she was excusing the Academy, which has nominated an all-white slate of actors for two years in a row, Mirren clarified that she thinks the lack of diversity is the fault of a larger system. "I'm saying that the issue we need to be looking at is what happens before the film gets to the Oscars, what kinds of films are made and the way in which they're cast, and the scripts," the Oscar-winner said. "It's those things that are much more influential, ultimately, than who stands there with an Oscar."
Mirren joked that, much like Spike Lee, she wouldn't be going to the ceremony because she was not invited. While others, including Lee himself, have also criticized the state of the industry, they have also taken the Academy to task for not recognizing the work of people of color (including Elba, as well as performers like Will Smith or the casts of Tangerine and Chi-Raq) when they get a chance to do award-worthy work onscreen. As a result, the organization has announced plans to address its own lack of diversity by restructuring its membership.
Watch Mirren's interview below.