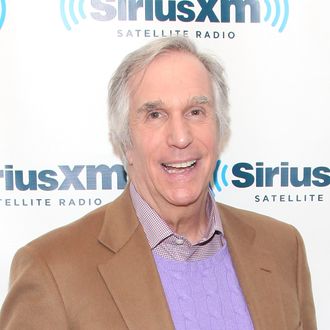 Ayyyyyyyyyyyyyyyyyyyyyy.
Photo: Taylor Hill/2012 Getty Images
Because everything gets better with a little help from the Fonz, Henry Winkler has signed on to Bill Hader's HBO pilot about a hitman, Barry. Winkler, who once played Barry Zuckerkorn (different Barry), will play an acting teacher known as Gene Cousineau in the comedy, which follows Hader's former marine as he travels to Los Angeles and finds "an accepting community in a group of eager hopefuls within the L.A. theater scene." Hader is directing the pilot and co-writing it with Silicon Valley's Alec Berg. So, which acting exercises will Gene Cousineau teach in class: Zip Zap Zop? The Dating Game? Jump the Shark?