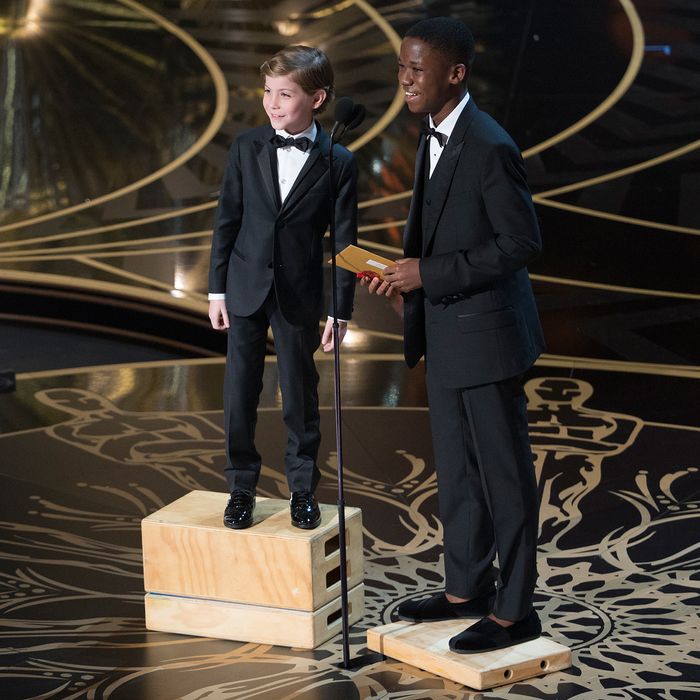 Jacob Tremblay and Abraham Attah, wee beasts in the room.
Photo: ABC
In the end, most of the year's Oscar front-runners prevailed: season-long favorite Spotlight reasserted itself when it counted, and Brie and Leo claimed the statues that had effectively been promised to them from the start. And while there was still room for a surprising upset, as Sylvester Stallone learned when the Best Supporting Actor trophy went to the all-but-forgotten Mark Rylance, what at one point seemed like an Oscars ceremony awash in uncertainly turned out to be yet another underwhelming awards show. Even Chris Rock, the supposed #OscarsSoWhite Knight, took a measured — though still mostly funny — approach to his hosting duties. But, hey: Joe Biden.
High: Lady Gaga's performance.
Lady Gaga's having the best month of her career, from playing the Super Bowl to honoring David Bowie at the Grammys. And with all eyes back on her, Gaga used her second Oscar performance (remember this?) to shed more light on sexual-assault survivors, standing with dozens of them onstage. Sorry, Academy, but the far more significant writing's on their arms.
Low: Spoiling Carol in Cate Blanchett's Best Actress clip.
A minor quibble, but still: Carol is not a movie that relies much on suspense. One of its few twists is the true nature of Cory Michael Smith's character, which was promptly spoiled in the Academy's choice of Cate Blanchett clips. Snubbing Carol wasn't enough?
High: Jacob Tremblay and Abraham Attah getting a boost.
Though deeply disturbing things happened to the characters Tremblay and Attah played in Room and Beasts of No Nation, respectively, the two child actors provided one of the cutest moments of the night when they walked onstage to present the Best Live Action Short Film award and found the mic to be too high. After Rock jogged out with a pair of boxes for them to stand on, Tremblay thanked him with a pitch-perfect kid joke: "I loved you in Madagascar." And so Tremblay's awards-season clinic continued.
… also High: Tremblay's reaction to the Star Wars droids.
Low: The Ali G bit.
Sacha Baron Cohen's return to his Ali G persona tonight was a hard pass: He brought back the character who made him famous, but to belittle the whole concept of honoring actors of color. Sure, the Minions joke got a genuine laugh, but misidentifying a bunch of black actors and then introducing Room — a movie about the sexual exploitation of a young woman and the captivity of her son — as "a movie about a room full of white people" was tone-deaf and unfunny. If you have any doubt about the vibe in that room during his appearance, just look at Olivia Wilde's face as she stands up there with him.
Low: Sam Smith's speech.
Oh, Sam Smith: So well-intentioned and yet so ill-informed. During his acceptance speech for Best Original Song, Smith cited Ian McKellen and said he wasn't sure if an openly gay man had ever won an Oscar before, and if that were the case, he's very happy to be the first! Of course, Smith is forgetting that Tom Daley's arm candy, Dustin Lance Black, won for Best Original Screenplay for Milk in 2009. Smith's failure to fact-check wouldn't have been so bad had he at least acknowledged fellow Song nominee ANOHNI, who is just the second trans person to ever be nominated for an Oscar. But wait, maybe it's just easier to forget her because the Academy didn't even ask her to perform her song.
Mid: Chris Rock's monologue.
Chris Rock's opening Oscars monologue didn't quite hit it out of the park (the joke that there were "real things" to protest in the '60s was a misreading of both the past and present), but what it did provide was a focused ten-minute stand-up on racism in Hollywood. Plus, it provided one standout joke. "Is Hollywood racist?" asked Rock. "Hollywood is sorority racist. It's like, We like you Rhonda, but you're not a Kappa."
Low: Leaving Abe Vigoda off the "In Memoriam" segment.
It's ironic that the man who spent the last 30 years of his life poking fun at rumors that he'd died would be left off the Oscars' "In Memoriam" reel the year he actually did die. But if anyone could see the dark humor there, we bet Abe Vigoda could.
High: Mad Max's six Oscars …
Mad Max dominated the first half of the night's awards, taking home six very well-deserved Oscars for costume, production design, cinematography, film editing, and sound categories. It may not have reached Valhalla, but we take comfort in the fact that it still came away with double the Oscars of any other film.
… and then a Low: Jenny Beavan's rude reception.
Mad Max costume designer Jenny Beavan had her acceptance speech cut off tastelessly early, even by Oscar standards. Then again, she couldn't have felt that welcome to begin with:

High: Spotlight won Best Picture.
It turns out The Revenant wasn't an inevitability (well, except when it came to Leo). Instead, Best Picture went to the quieter movie that could: Spotlight, Tom McCarthy's film about the Boston Globe's investigation into the Catholic Church's systemic cover-up of sexual abuse committed by its clergy. Maybe print journalism isn't dead after all.
Low: The running Girl Scouts gag.
Hooray for Chris Rock for bringing his daughter's Girl Scout troupe to the Oscars! Sending the Scouts out into the audience to sell cookies was a very funny bit that brought to mind Ellen's pizza joke of two years ago. But this is an awards show, it wasn't allowed to end there. In the draggy second half, Rock kept on coming back to the bit, never heightening it, just … bringing it back out. That, kids, is how you ruin a joke.
High: Stacey Dash's troll.
Rarely does a right-wing nutcase laugh with the people laughing at her, and, really, who can be sure Stacey Dash even got the joke. Still, her surprise cameo at the Oscars as the Academy's new "director of minority outreach program" was the perfect wink at the white folks in the room she aims to please, and all the black people at home (where else) she's since dismissed. You have to assume this bit was one of Chris Rock's own — the #OscarsSoWhite troll we were waiting for.

Low: That racist Asian bit.
For a show so self-conscious about its shortcomings when it comes to black representation, this year's Oscars still included a bafflingly tone-deaf segment in which Chris Rock joked about Asian children being exploited to make your mobile phones while three (adorable) Asian children stood silently behind him.
High: The Sound Design segments.
Every year, sound editing and mixing are treated as the ugly-duckling categories: We joke about how even the voters don't know what they mean, much less the audience at home. But this year, the producers cleverly decided to strip away the spare parts, presenting clips from each nominee with the soundtracks isolated to stress the craft and skill that went into each film's sound. While we may not be any closer to really understanding the difference between editing and mixing, at least we can all now appreciate the accomplishments of the honored nominees.
Low: Choosing "Blackbird" as the In Memoriam song …
We were only waiting for this moment when … Leonard Nimoy died?

… and Low: Closing the night with "Fight the Power."
We are here for Chris Rock denouncing the Academy's problems with race throughout the night. But to play us out with Public Enemy's "Fight the Power" was a step too far. It felt like the Academy elbowing us in the side, as if they were in on the joke. They're not.