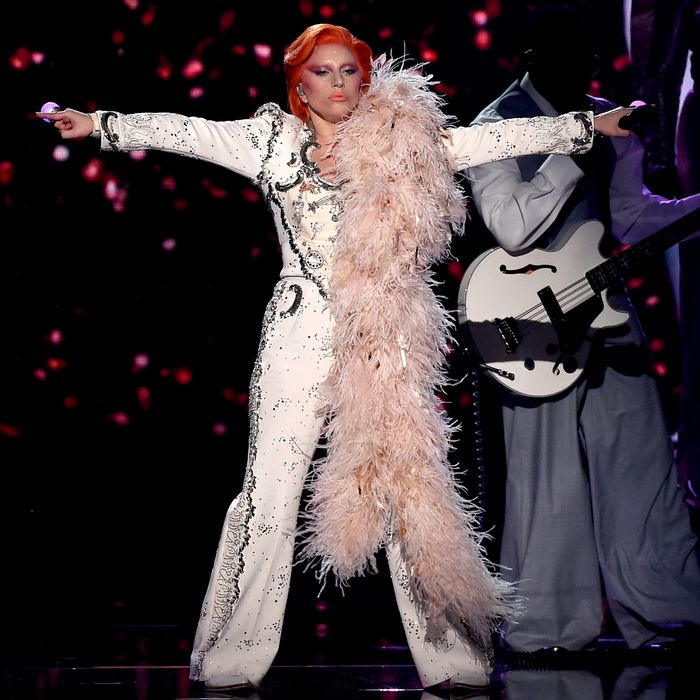 Lady Gaga.
Photo: Kevin Winter/WireImage
Well, this was not the year the Grammys finally felt brisk. The problem with letting an awards show run past the 210-minute mark is that even when you have a good number of impressive performances, they still feel too few and far between. Kendrick turned in an instant classic (again). Hamilton proved to be the fan favorite everyone expected. Alabama Shakes provided an unnecessary reminder of why they were taking home three Grammys. And the tributes — to David Bowie, to B.B. King, to Lionel Richie — were powerful and entertaining. (Er, sorry, Lemmy.) But despite those incredible moments, it was yet another interminable Grammys broadcast that left you feeling like you just broke even on the night. Below are the highs and lows that contributed to that zero-sum sensation.
Get better, Grammys.
HIGHS
Kendrick Lamar's racially charged performance
What do the two years Kendrick Lamar was robbed of Album of the Year at the Grammys now have in common? Kendrick still won each night. In five years, Taylor's shade-filled speech will be a distant memory, but the image of Kendrick in chains, glowing in the dark, and practically set on fire will live forever — and so will the memory of Trayvon Martin, whom Kendrick says he died with on February 26, just like the rest of civilization as we thought we knew it.
Everything Hamilton
For most of us plebes, this was the first chance we got to see Hamilton performed onstage, via a live satellite feed from the Richard Rodgers Theatre in New York. Capital G genius Lin-Manuel Miranda was also fully prepared for the moment when Hamilton would win Best Theater Album, as he rapped his acceptance speech, thanking the cast and crew, the Roots, and his family. #Gram4Ham.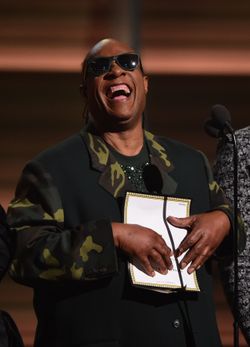 Stevie Wonder talking about accessibility
It was a simple gesture to have the winner's envelope for Song of the Year written in braille. It was practical, for one, because it allowed Stevie Wonder to read the winner, which gave him the opportunity to delight in the fact that he could read the paper and the audience couldn't. "I just want to say before saying the winner," Wonder said, "that we need to make every single thing accessible to every single person with a disability." It wasn't an obvious political moment, but an important one nonetheless.

Everything Alabama Shakes
The Grammys tend to be a murky wasteland for fans of what you might call rock and roll, or indie rock, or punk rock, or any kind of rock music that postdates Creed. But this year Alabama Shakes, a legitimately great rock-and-roll band, took home three Grammys and laid down a blistering, exultant performance, giving relevance to an awards show that so often seems unaware of the music world at large. Led by indomitable front woman Brittany Howard, Alabama Shakes reminded an audience of pop artists why rock and roll remains a vital and exciting genre — and why capes need to make a comeback.
Lady Gaga's David Bowie tribute
There aren't many pop stars — or human beings, or even, presumably, extraterrestrials — who would be able to properly pay tribute to the wild genius of David Bowie. Lady Gaga, fortunately, is one of them. She was born for this moment, flaming orange hair and all. Gaga rocketed through Bowie's oeuvre, from "Space Oddity" to "Suffragette City" to "Fashion," before capping it all off with "Heroes," and across the board, she did the starman proud.

Lionel Richie's face
The Grammys Lionel Richie tribute performance had a bewildering mix of people (your new favorite supergroup: John Legend, Demi Lovato, Luke Bryan, Meghan Trainor, and Tyrese), but Lionel Richie was feeling it. His face spoke volumes, especially when Tyrese just kept going on that stage. Bless his heart.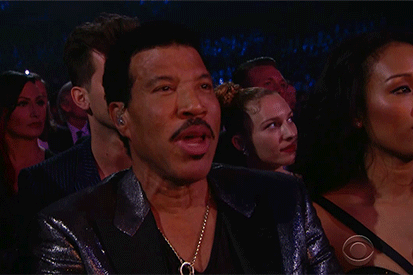 B.B. King's tribute
This year's Grammys were all about loss (and in Lionel Richie's case, celebrating a life still being well lived), but not every performance had to feel six feet under (hi, Hollywood Vampires). Chris Stapleton, Gary Clark Jr., and the legendary Bonnie Raitt — who sauntered onstage, guitar in hand, just when you thought she wouldn't — proved together, on a deliciously soulful "The Thrill Is Gone" cover, that you can mourn an icon and still do right by their spirit.

T-Swift's not-so-secret handshake
This thing starts out fine, like everyone knows what they're doing, and then, all of a sudden, it takes a slight turn for the worse. Who needs to explode that big? A Grammy winner? Okay, fine, but the reaction is still kind of like, Oh shit, that explosion was way too big, let's just hug. Quick. It's an emotional roller-coaster of a handshake, but thanks to that hug, the interaction ends on a high note, somehow playing out as goofy, self-aware, and endearing all at the same time. Aww.

LOWS
T-Swift's not-so-entertaining opening performance
Taylor Swift kicked off the ceremonies with a wobbly, pitchy performance of "Out of the Woods" that was plagued by bad sound and omitted what was arguably the best verse of the song. More to the point, it was an oddly downbeat way to begin a three-and-a-half-hour show. At least Taylor had the good sense to end the Grammys on a memorable note.

Rihanna canceling her appearance
Rihanna's whole I serve vocals reinvention started roughly around last year's Grammys, when she performed "FourFiveSeconds," so it would've been nice to see that transformation come full circle post-Anti. But now that she's playing in the Adele leagues, she has to roll with all those vocalist-specific punches — including, evidently, not singing on live TV when you have bronchitis. Sadly, the live debut of "Kiss It Better" will likely have to wait until she's on tour, when she'll hopefully have figured out this whole taking-care-of-her-vocal-cords thing.

Hollywood Vampires
There is something vampiric about the way classic rock — i.e., classic-rock radio; i.e., rock and roll stripped of its context and depth and rendered in the most impotent and commercialized manner possible — continues to hold this weird, brainwashy sway over certain elements of the culture. There is also something vampiric about Johnny Depp, who seems to be responding to his increasingly overwrought film roles by becoming a dad-rock ouroboros, a bandana neckerchief swallowing its own tail. But the combination of these two things, which the Grammys insisted we call the Hollywood Vampires — complete with Joe Perry of Aerosmith and Alice Cooper, both costumed as themselves — was less Dracula or Nosferatu than Count Chocula. I don't begrudge Depp or Cooper or any of these other dudes the freedom to perform the music they like in the clothes their assistants buy for them on Melrose Avenue, but next to the sociopolitical virtuosity of Kendrick Lamar and the newness of Hamilton, Hollywood Vampires just served as a reminder of why so many people see rock and roll as secondary.
The Grammys' PSA Moment, Or: Common, Cents
What's the one thing viewers want from an awards show that already feels like it's never going to end? Other than the willpower to change the channel? A lecture, of course. Recording Academy president Neil Portnow was once again happy to oblige, using his mid-show soapbox moment to discuss the financial injustices of the modern streaming model. "When you stream a song, all the people that created that music receive a fraction of a penny," he explained, standing next to an uncomfortable-seeming Common onstage. "Isn't a song worth more than a penny?" The sentiment is valid, but also laughably idealistic (and, again, poorly timed). It's market forces that will change consumer behavior, not a stern talking-to from the Grammys stage. Unless that talking-to comes from Adele, Empress of Culture, who already has full authority to take our money at will.
Lauryn Hill missing her duet with the Weeknd
Lauryn Hill's late-in-life career has been talked about more for how long it takes her to get to the stage than what actually happens when she gets there. Tonight, she never it made it that far, instead skipping out on what was supposed to be a surprise duet with the Weeknd on "In the Night." It would've been incredible to hear Lauryn's interpretation of that Michael Jackson homage — anything would've been better than Abel's stuttering falsetto — but we'll have to wait and hope another opportunity presents itself — and that by the time it does, she's purchased a wristwatch. (Or just checked her phone.)

Adele's sound issues
If Adele's going to deign to perform on your measly stage, you had better get it right. And boy, did the Grammys ever not get it right. What should've been a triumphant performance of "All I Ask" turned into cacophony that threw off Adele's whole vibe (and key). It's by far Adele's worst TV performance, all thanks to "piano mics [that] fell on to the piano strings." But, hey, like Adele tweeted, shit happens. And at least she got In-N-Out afterward, which is really a win for us all.
Ending the show with Pitbull, Robin Thicke, and Sofía Vergara dressed as a car (plus Travis Barker, don't forget Travis Barker)
It's as if the producers wrote each of the night's performances on small slips of paper, put them in LL Cool J's hat, and then drew them at random to determine the order in which they'd appear during the show. It's the only explanation for having two of the evening's most unforgettable moments — the cast of Hamilton doing "Alexander Hamilton," and Kendrick doing Kendrick — appear back to back around the halfway point, and then wrapping up the night with a performance so clumsy and uninspired that it was remarkable only because Vergara, a person who definitely does not need to appear onstage dressed as a taxi, appeared onstage dressed as a taxi. Also, Robin Thicke was there. That was how the Grammys bid us adieu. To them, we say: