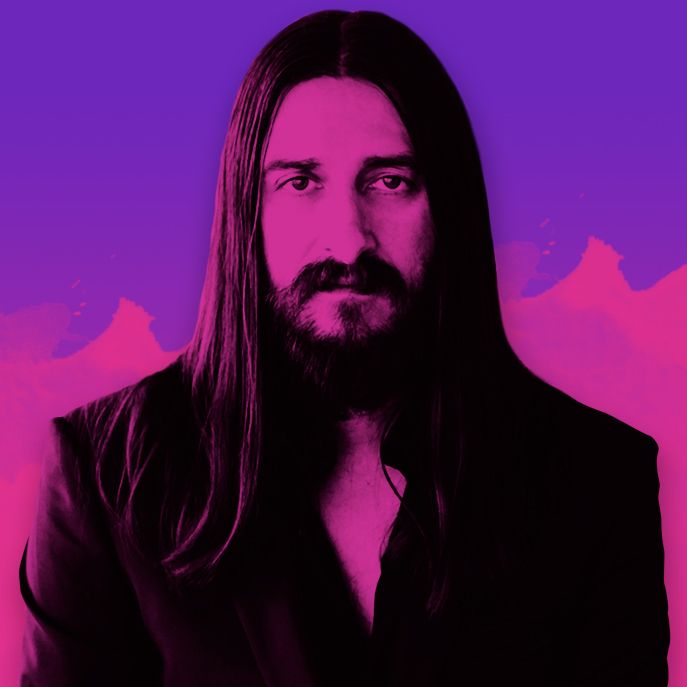 Photo: Vulture and Photo by Jeff Fasano
Over the past half-decade, superproducer Jeff Bhasker has evolved from a behind-the-boards impresario into a de facto hitmaker. Since connecting with Kanye West to confect half of the songs on the perilously moody 808s & Heartbreak in 2008, the Socorro, New Mexico–raised musician elevated his profile with credits on projects with Drake, Lana Del Rey, Taylor Swift, and Bruno Mars, and netted two Grammys for his work with Jay Z, West, and fun., the latter of which helped earned him a Producer of the Year (Non-Classical) nomination at the 2013 ceremony. This year he's up for the same award again, for his work on individual songs (Elle King's "Last Damn Night," Cam's "Burning House") and full-length albums (Mark Ronson's Uptown Special, Nate Ruess's Grand Romantic). Ahead of the 58th annual ceremony, Bhasker breaks down what it means to produce a record in 2016 and the process behind some of his latest hits.
Invoking an emotion is the most important part of being a producer — capturing an emotion that invokes an emotion in the listener, and making sure the song and the record do that, whether it's lo-fi or hi-fi production or vibe, and putting the whole package together with the artist.
I'm lucky to work with a lot of really talented people of all kinds. You get caught up with Grammys, saying this is the Song of the Year or Record of the Year. All of these people have dedicated their lives to making the best song and the best records they could, really. It's increasingly about earning an honest living, how much people work and go for it. They need encouragement, and you try to be encouraging. That usually helps. And then pointing out how they can make themselves better, but also establishing trust. They're the emotion. The human voice is so powerful, you can never take that for granted.
Technically and fundamentally, the thing when you sit behind the board as a producer is to pick the key of the song and pick the tempo. To see what supports the singer and the groove to sit on it. It gets so technical. You can Google anything if you want to learn. At the end of the day, just listen to what's there, listen to the music, listen to the records, listen to the singer, listen to the lyrics. Are the lyrics good? There are all these choices to make. Plugging in the microphone is the easiest part. There's an engineer there to do that.
Just make sure that it sounds good. Whatever else is on the record, that's basically it. You don't have to turn a knob, you don't have to know how to work any equipment. You don't have to know anything about music or notes on a staff. If you can recognize when something sounds great and manage to record it decently, you'll be killing it. But seriously, it has to be that good. It has to be mind-bending and life-changing.
[With "Uptown Funk,"] it blew our minds. It's Bruno Mars playing the drums. Boom, bap, boom, bap. Then Mark on the guitar and me on the keyboards, and just that funk jam. That's how it started. And then we tried to find the perfect lyrics for the next nine months in the perfect form. But we had a basic idea. We'd get in the studio and keep trying until you figure it out, get it right, it sounds good to you. But that's it. There's no magic thing we did specifically. We tried everything. And that's what you have to do. There's a really great Stephen Sondheim documentary [Six by Sondheim] of him talking about these songs that just couldn't be anything else. You have to exhaust every option. Or you take the good feeling, but the more you work on it, you work it to its perfect presentation, and it's never perfect. You keep working on it forever, but just work on it until you can't.
Sometimes when you do an album, you have a bigger time track and theme to riff off of. It can decide what the songs should be versus doing a particular song, [where] you have to shift into whatever is appropriate in that moment. Those are great, but doing an album, you have some sort of theme to work with.
With fun., it was a new band, they won Best New Artist, and having that experience, it's definitely given me a taste of what it's like to watch something build from unknown to all of these people discovering the music. It's so exciting, spotting new music. You start out wanting to be with all these superstars, people you're a fan of. But there's something thrilling about discovering something new and helping make that happen.
Elle King is a great example. She has an incredible personality, but she's also an incredible musical talent, too. I really love the record I did with her, especially "Kocaine Karolina," where she's playing the banjo. It's what I was talking about, the simplicity of the emotion. You don't have to overproduce anything.
I'll work with anybody. You catch a vibe with someone, like I mentioned before. You're a fan of theirs, and they do something that you're in awe of. They bring something to the table that you don't, and you bring something to the table that they don't. Those collaborations are the best.