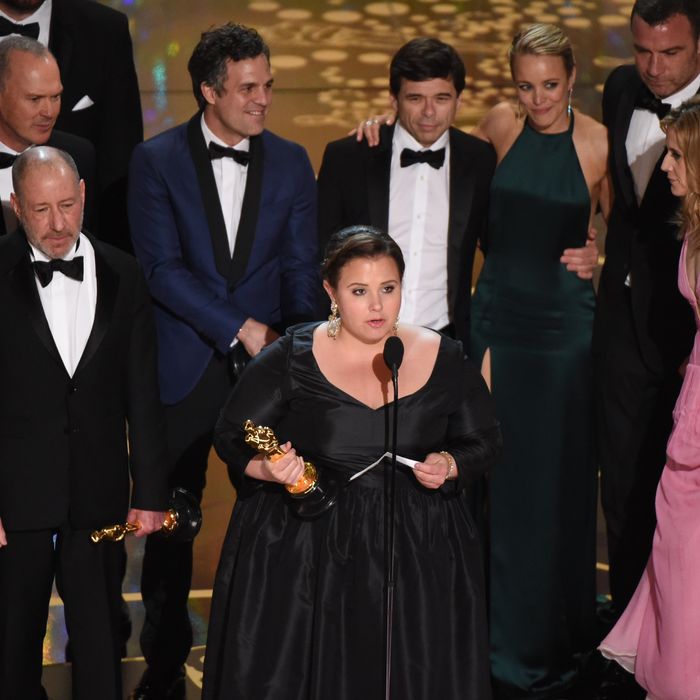 The Spotlight (movie) team
Photo: MARK RALSTON/Getty Images
It was a twist-filled awards season right up until the last category was called on Oscar night, but in the end, did we twist around so much that we ended up right back where we started? Two of the most-talked-about wins happened when Spotlight took Best Picture over the surging The Revenant and Bridge of Spies star Mark Rylance triumphed in the Best Supporting Actor race over heavy favorite Sylvester Stallone. Still, the signs were there — and the seeds were planted — for both victories all along. We all just got distracted.
Let's start by figuring out the biggest win, Spotlight's. Out of the Toronto Film Festival last September, Oscar predictors anointed this journalism drama the Best Picture front-runner to beat, but two flashy competitors eventually came along that gave the film a real run for its money: Adam McKay's financial-crisis comedy The Big Short and Alejandro Gonzalez Iñárritu's survival epic The Revenant. Still, Spotlight retained its pole position up until the Golden Globes, when a win for The Revenant (coinciding with the film's remarkable box-office surge) made pundits suddenly optimistic about the Leonardo DiCaprio film's chances, despite the fact that the overlapping membership between the Globes voting body and the Academy numbers only one person.

The three biggest Hollywood guilds were then supposed to weigh in and clarify the field — last year, for example, the Producers Guild, Screen Actors Guild, and Directors Guild all came out in favor of Iñárritu's eventual Best Picture winner Birdman — but they only confirmed the three-way split, since the PGA went for The Big Short, SAG went for Spotlight, and the DGA honored Iñárritu. When The Revenant also took top honors at the BAFTA awards across the pond, it appeared to tip the hardware total in that film's favor: After all, you usually need broad support in a variety of fields to win the Best Picture Oscar, and these diverse voting bodies tilting toward The Revenant appeared to give it the edge.

But in the end, there were still key statistical debits working against The Revenant that kept giving me pause — in fact, I recently named five of them. The Academy is very stingy with back-to-back wins, and no director has ever made two Best Picture winners in a row; was the twofer of Birdman and The Revenant really so overweeningly significant that the Academy was ready to make Oscar history with it? A clutch of other snubs proved noteworthy, too: The Revenant wasn't nominated for its screenplay (Titanic is the only film in the last few decades to take Best Picture without a script nod), and the Screen Actors Guild declined to nominate its ensemble (a sign of potentially shallow actor support that only Best Picture winner Braveheart has ever been able to overcome).

Spotlight had to surmount its own statistical odds to triumph, since it's now the first movie to win Best Picture with only one other Oscar (for its screenplay) since The Greatest Show on Earth in 1952. But it had a whole lot of other things going in its favor, including a social significance that was arguably greater than its competitors and, most important, an awards-season team led by veteran strategist Lisa Taback that fought for every last vote. Over the last four years, the Best Picture and Best Director categories have split three times, and Taback's team didn't throw in the towel when it looked like Iñárritu had his category sewn up over the more mild Spotlight director Thomas McCarthy. They knew that the man who makes the most technically audacious movie often triumphs in Best Director, but that there still remained room for the smaller Spotlight to seize Best Picture in a split. In the end, the flashier films proved to be flashes in the pan, and slow-and-steady Spotlight took the gold.

That win will give new predictive power to the Screen Actors Guild awards, and Stallone's loss could be chalked up to bad luck at the same precursor. Startling many, he wasn't even nominated for a SAG award in December, and while a few actors have still gone on to win an Actor despite that snub, those performers usually come from end-of-the-year movies that screen and peak much later in Oscar season. While industry observers touted Stallone's comeback narrative as irresistible, I kept talking to actual Hollywood insiders who weren't that enamored of Stallone as a person over his few decades in show business, and consequently withheld their vote. It's a problem that afflicted other Oscar nominees like Mickey Rourke, Lauren Bacall, and Burt Reynolds, who learned that a comeback narrative can only take you so far: If the voters don't actually want to see you on that stage, you won't make it up those steps.

That's why I kept singling out Supporting Actor as the performance category most ripe for an upset, though I undervalued Rylance, instead figuring that a surprise victor would come from one of the other Best Picture front-runners, like Mark Ruffalo from Spotlight or Christian Bale from The Big Short. In the end, I realize that I overlooked a key pattern: The voters I spoke to who were so resistant to Stallone were the same older men who praised Bridge of Spies so much last fall. In Rylance, they had an alternative. Like Spotlight, he'd been there all along.