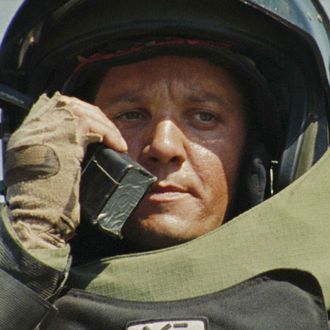 This is not Jeffrey Sarver, by law.
Photo: Summit Entertainment
Back in 2011, Sergeant Jeffrey Sarver filed a lawsuit alleging that Jeremy Renner's character in The Hurt Locker was based on him. That year, a circuit-court judge quickly dismissed the suit, accepting arguments from screenwriter Mark Boal and others that Renner's character was a composite of the many soldiers Boal interviewed while reporting in Iraq. Sarver appealed the ruling, and eventually the Ninth Circuit picked it up. But in a ruling released Wednesday, the Circuit Court of Appeals has sided once again with the defendants, ruling that The Hurt Locker's depiction "is speech that is fully protected by the First Amendment." Circuit-court judge Diarmuid O'Scannlain argued that Sarver's application of California's right of publicity (which was key to his appeal) was unconstitutional, a move that could make it easier for filmmakers to create similar characters. Meanwhile, Boal and Kathryn Bigelow can go back to thinking about that other soldier tangled up in a court case.