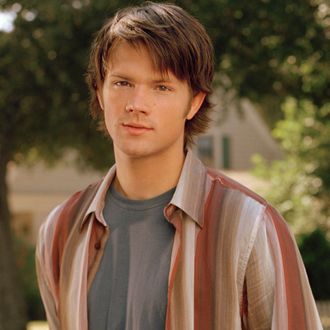 Did you ever make it out of that town where nothing ever happened?
Photo: Warner Bros.
The gang's all here! Fulfilling Amy Sherman-Palladino's wish to have all of Rory's former beaux back, Supernatural's Jared Padalecki has signed on to reprise the role of Dean Forester for the Gilmore Girls revival, TV Line reports. He's the last of Rory's exes to rejoin the cast — Milo Ventimiglia's Jess and Matt Czuchry's Logan are already onboard — but the first victim of Rory's fickle heart. And if there's one person we can almost guarantee never made it out of Stars Hollow, it's good ol' Dean. For his sake, let's hope he's at least now running Doose's Market. Padalecki is just the latest addition to the revival's growing cast, which now also includes Sutton Foster in the Bunheads–Gilmore Girls crossover of your dreams. Variety also reports that David Sutcliffe will be back once again to play Rory's dad, Christopher — after making a totally coincidental and very meta cameo on Netflix's new Degrassi season — likely causing more headaches for Lorelai.
Update: TV Line now reports that Danny Strong will be back as Doyle, one half of the show's secret best couple with Paris Geller, played by Liza Weil, who has also already joined the revival. Here's to more cute bickering about journalism!
Second update: TV Line adds that Emily Kuroda will reprise her role as Mrs. Kim, the strict antique shop owner and mother of Lane. Meanwhile, Variety reports that Vanessa Marano, who hangs out on Switched at Birth, will be back to play Luke's long-lost daughter April Nardini, a role she once said she "kind of hated" playing. Has April grown out of doing wacky science experiments and dividing Luke and Lorelai? Hopefully!