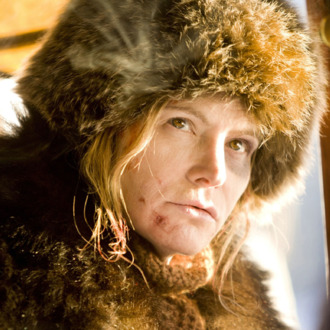 Photo: The Weinstein Company
After the intermission in Quentin Tarantino's three-hour The Hateful Eight, Jennifer Jason Leigh picks up an acoustic guitar (with the permission of her bounty hunter, played by Kurt Russell and his majestic mustache) and coos an eerie ballad song about Russell's imminent demise. Russell doesn't dig the ominous song and grabs the guitar from Leigh, smashing it to splinters as she shouts, "Whoa, whoa, whoa!" The chagrined shouts were real: The guitar was actually a "priceless" relic from the 1860s, and Leigh was "heartbroken," and "quite in love with it." Speaking with Billboard, Leigh said:
I got to actually take it home with me, and I played it every day. It had the most beautiful, warm tone. I had asked how much it cost, and I was told $4,000, so I was kind of saving up my forced-call money, thinking "At the end of this movie I'm gonna buy that baby … and it's gonna be my memento that I give to myself." I got a few zeroes wrong — it was a $40,000 guitar, and it was also a museum piece, so I never would have been able to buy it … But Kurt knew how much I loved that guitar. Then Quentin gave me another Martin guitar from the 1880s as my wrap present, which was kind of extraordinary.
On a related note, there's a collection of 300 rare guitars coming to New York for auction, including the guitars used by In Cold Blood's Perry Edward Smith, as well as its movie analog, both priced at $150,000–$250,000. Don't tell Kurt Russell.