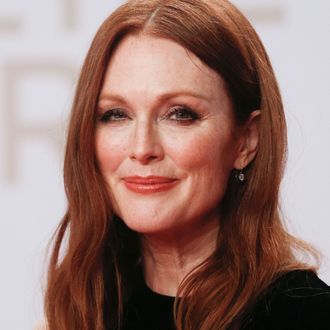 You figure Julianne Moore could pull off stylish and evil really well.
Photo: Franziska Krug/Getty Images
Kingsman: The Secret Service, last year's blockbuster about classy British people murdering each other, is getting a sequel, and potentially adding the classiest actress of them all, Julianne Moore, who will also get to murder people. Moore is in early talks to play Kingsman 2's villain, across from CW casting-director fever dream Taron Egerton. Director Matthew Vaughn is returning to direct, while Colin Firth (spoiler alert) is not currently returning for the sequel, as his character died in the first installment. The film will take place in the U.S., which may mean that Moore won't use a British accent, but she better get her own umbrella gun. The people demand it.