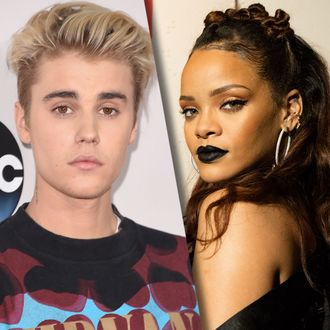 Bawse.
Photo: Jason Merritt/Getty Images, Chris Polk/Getty Images
We have reached peak Biebs: In case it wasn't already apparent that the entire planet's a Belieber these days, Justin Bieber just nabbed his third No. 1 song off last year's Purpose, replacing his own song to do it. After dethroning Adele's "Hello" earlier this month, Bieber's"Sorry" ruled the top of the charts for three weeks; now it's been dethroned by his modern-day "You're So Vain" kiss-off, "Love Yourself." ("Sorry" is at No. 2.)
If all this sounds like a pretty rare feat, you're not wrong: Only 11 other artists have replaced themselves at No. 1, and 16 others have occupied the first two spots. The Weeknd also recently did the same with "Can't Feel My Face" and "The Hills," so it's not that rare. But what's incredible is that Bieber hadn't had a No. 1 single until Purpose (which went platinum even before today's RIAA rule change), and now he has three. (His first, "What Do You Mean?," topped the charts in September.) In fact, no other male artist has had three No. 1 hits off the same album since the original Justin — Timberlake, that is — did it nearly a decade ago with FutureSex/LoveSounds. (Taylor Swift, of course, last did it with 1989.)
As previously noted, Rihanna might've taken a slight sales hit with her free Anti release, but no surprise, the album's lead single is a success. "Work," featuring Drake, has debuted at No. 9 on the chart, just four days after its release and with a little over a day of eligibility. It also enters at No. 1 on the Digital Songs chart, extending Rihanna's digital dominance to 14 digital songs that have gone No. 1. That's not all: She makes even more history, nabbing her 27th Top 10 hit (and 50th overall) to tie Mariah Carey, Janet Jackson, and Elton John for the fifth-most Top 10s of all time.
It's also a big deal for Drake, who never did get that solo No. 1 he was gunning for with "Hotline Bling." With "Work," he now has a 15th song that's made it to the Top 10, possibly putting him on track for another shared No. 1 with Rihanna, especially once the video goes viral, and we all know it will. (The once-and-future couple last reached No. 1 with 2010's "What's My Name?") Fear not, Drake — there's always "Summer Sixteen" to get you to the top all by yourself!