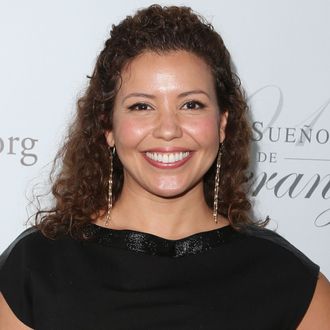 Justina Machado.
Photo: Faye Sadou/Retna Ltd/Corbis
Netflix's Latino remake of Norman Lear's iconic family sitcom One Day at a Time has found its leading woman in Justina Machado, an alum of ER and Six Feet Under (she played Vanessa Diaz in the HBO series). Machado will fill Bonnie Franklin's role in the remake, playing a single mom raising two troublesome children. But unlike Franklin's Italian-American Indianapolis divorcée Ann Romano, Machado's character, Penelope, will be a recently separated Cuban-American ex-servicewoman. Machado's meddlesome mother, as previously announced, will be played by the legendary Rita Moreno. Instead of two daughters, Penelope will have one daughter and one son. Those roles, as well as the role of the building manager/surrogate father, still called Schneider, are yet to be cast.
Netflix's One Day at a Time comes from Mike Royce (Men of a Certain Age, Everybody Loves Raymond) and Gloria Calderon Kellett (How I Met Your Mother and iZombie). There's no word yet on when the streaming service will release the first 13 episodes of the series.