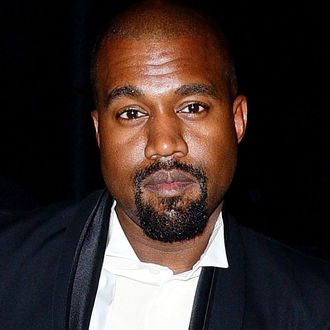 Kanye West.
Photo: James Devaney/Getty Images
Did you watch Taylor Swift accept her second Album of the Year award last week and start to feel the foundation of the Grammys begin to crumble beneath her heels? Same, says Kanye, who has tweeted his presidential plan to fix what he has always considered a broken system on his way to winning over 100 of those golden gramophones before he dies.
Step one: Get Grammy president Neil Portnow's attention.
Step two: Scold the Grammys, which recently used a piano prodigy as a PSA against music streaming, for being out touch.
Step three: Remind them that your presence is a present.
Step four: Tell the Grammys who should've won.
Step five: Incite a #GrammysSoWhite movement by pointing out the injustice that was Future's many apparent snubs.
Step six: Give them a little black-history lesson.
Step seven: Taking a cue from Future's project-a-week work ethic; announce another new album out this summer.
Step eight: Bask in self-love.