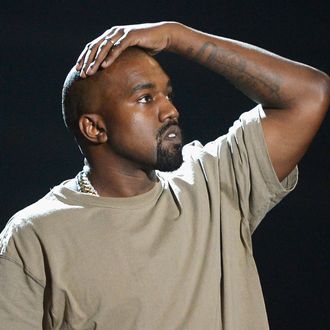 Kanye, pondering Pablo.
Photo: Kevork Djansezian/2015 Getty Images
After weeks of indecision, Twitter polls, and a Redwall-like guessing game based on the letters T.L.O.P., Kanye West has finally settled on a new name for his album. It's called The Life of Pablo. Yep, you really couldn't have guessed it. Kanye shared the announcement on Twitter less than 24 hours before his Madison Square Garden show tomorrow, where he will supposedly release the album and maybe explain who Pablo is, too. One guess: Kanye's been watching a little too much Narcos.
As for the track list, The Life of Pablo will include "Ultra Light Beams," "Father Stretch My Hands" parts one and two, "Freestyle 4," "Famous," "Highlights," "Feedback," "Fade," "FML," "Real Friends," and "Wolves." "No More Parties in L.A." is the most significant cut, while "30 Hours," "Nina Chop," and the once-titular "Waves," which appeared on Kanye's previous previews of the track list (compare below), appear to have fallen by the wayside as well. (In one iteration, "Nina Chop" was either renamed or replaced with "Famous," the other two could have undergone similar reworking.) We're also sorry to report that Kylie Jenner didn't make her presence known this time, though someone has written the enigmatic message "which one?" at the upper right. Which single to break out first? Which song to send to Pablo? At this point, does Kanye even know?