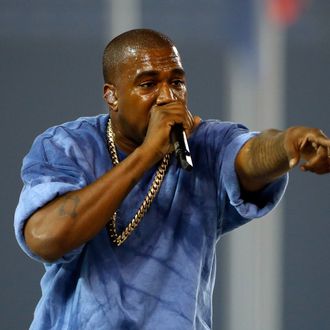 And you, and you, and you, you're gonna pay me.
Photo: Ezra Shaw/2015 Getty Images
Kanye, who released The Life of Pablo, last night, has spent his day much as we all spend our days, wondering if Mark Zuckerberg will invest in our singular genius. In a flurry of tweets before his SNL performance, Kanye said that he was "53 million dollars in personal debt." Later this afternoon, he asked Mark Zuckerberg to "invest 1 billion dollars into Kanye West ideas." Then, Kanye announced that he would hold off selling his album, which was previously available for download on his website, and keep everything exclusively on Tidal for the next week. You see, Kanye really wants everyone to download Tidal, with the fervor of someone who, you know, might have some cash flow issues.
First question: What exactly are the terms of Kanye's deal with Tidal? Second question: Does Kanye really need $53 million? Third question: Don't we all?
Oh, and one last question: What in Jay Z's hallowed name is a "scripted content idea"?
Update: After a day with (presumably) no response from Zuckerberg, Kanye has redoubled his efforts. He also shared an organizational chart for Donda, a company that would be named after his late mother, for whom he recently designed his Only One video game. During his Yeezy Season 3 show, Kanye said that companies in Silicon Valley laughed during meetings with him, and he is apparently still smarting from those wounds.