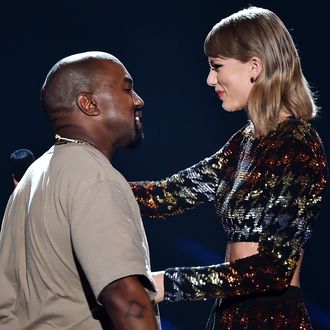 All of this has happened before, and all of this will happen again.
Photo: Kevin Winter/MTV1415/Getty Images for MTV
During the Yeezy Season 3 (see all the looks from the Yeezy Season 3 show here) show yesterday, Kanye debuted "Famous," which contains the already infamous line: "I feel like me and Taylor might still have sex / Why? I made that bitch famous." When "Famous" debuted yesterday, TMZ released a report saying that Kanye called Taylor for approval on the lyric, which was a "joke." Taylor's people have denied this, telling the New York Times that Kanye only called to ask Taylor to debut her song on her Twitter account, and that she declined and "cautioned him about releasing a song with such a strong misogynistic message." This morning, Kanye took to Twitter to claim that he "did not diss Taylor Swift and I've never dissed her," and that he did have a conversation with the singer in advance of the release of The Life of Pablo. Kanye went on to say that "Taylor came up with" the infamous line in "Famous," before launching into a longer spiel about the state of music today. Read it all below:
The line in question is a reference to that time back in 2009 when Kanye interrupted Taylor's speech at the VMAs, which is as good an origin story for this decade of culture as any — though given that Taylor was accepting an award at the moment, the lyric isn't entirely accurate. The two had seemingly made peace in the intervening years, and even reunited at major awards shows, but apparently tensions are still high (Taylor's brother and Gigi Hadid have already taken her side on this rapidly freshening beef). It's also worth noting that the statement from Taylor's spokesperson claims that Kanye did not reveal the "I made my bitch famous" line when he first approached her about the song, which makes the exact genealogy of the phrase even harder to trace. The real culprit here, celebrity culture's new third man, is the unnamed friend of Taylor's who told Kanye about her joke, or invented it themself, or perhaps is an invention of Kanye's.