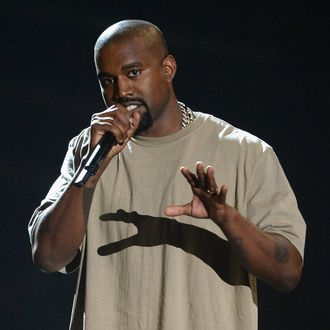 It's all happening.
Photo: Kevork Djansezian/2015 Getty Images
Though his latest album is set to drop in the next few weeks, Kanye has decided to spend his time making waves on Twitter instead of simply making Waves. After laying into Wiz Khalifa, making peace with Khalifa, and then clarifying the greatness of his upcoming album, the artist decided to troll the world today with a photo of himself, shot by Tyler, the Creator, on the cover of Rolling Stone. The spread features a rare picture of Kanye's smile and the caption, "Kanye: Does he like mustard?" (a possible reference Kanye's stained shirt in his "All Falls Down" video, or perhaps his sometime collaborator DJ Mustard). The cover, also, is not real. "While we love Kanye, and have many mustard-related questions for him," the magazine tweeted. "This is not an actual cover of Rolling Stone."
Of course, that's not enough to stop either Kanye or Tyler, who have both taken to Twitter to insist that the fake cover should be real.
Kanye is set to debut Waves on February 11 alongside his upcoming Adidas collection, Yeezy season 3.