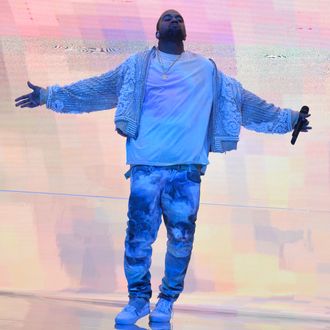 Yeezus.
Photo: 2016 NBCUniversal Media, LLC
Kanye West is very unhappy with his most recent critic: music producer and Wikipedia survivor Bob Ezrin. In a firestorm of tweets, Yeezy held nothing back when he responded to a recent open rant (with Ezrin's name on it) that had downplayed the rapper's impact on music and art. "Do something relevant," 'Ye retorted late Tuesday night. "Please don't speak on me bro ever again!!!" His ensuing diatribe included digs at renewed rival Taylor Swift and nice human Macklemore. He also explained that Ezrin — who has done work for artists ranging from Jay Z and Taylor Swift, to Kiss and Phish — is "everything that is wrong with the old guard." Read on for more Kanye:
And that, Ezrin did. Earlier in the week, the producer had taken umbrage at the appearance of West's name in a New York Times article, one that called the ever-evolving Life of Pablo "process as art." Art? "[Kanye] didn't open up new avenues of public discourse like NWA, or introduce the world to a new art form like Grandmaster Flash, or even meaningfully and memorably address social issues through his music like Marshall, Macklemore and Kendrick," Ezrin wrote on Monday. "What he is a true artist at is living his life out loud — and shoving it down the throats of the rest of us whether we give a shit or not. He's like that flasher who interrupts a critical game by running naked across the field. Is that art?"
It's clear Ezrin doesn't like the idea of an endless album, one edited in real time. It's also clear, when he notes "Kanye's greatest achievements have been in the form of excessive behavior, egomaniacal tantrums, and tasteless grandstanding," that he also just doesn't really like Kanye. And we all know what happens when you publicly call out Yeezus:
(For reference, you can read all of Ezrin's words, published via Bob Lefsetz's online newsletter, here.)
This post has been updated throughout.