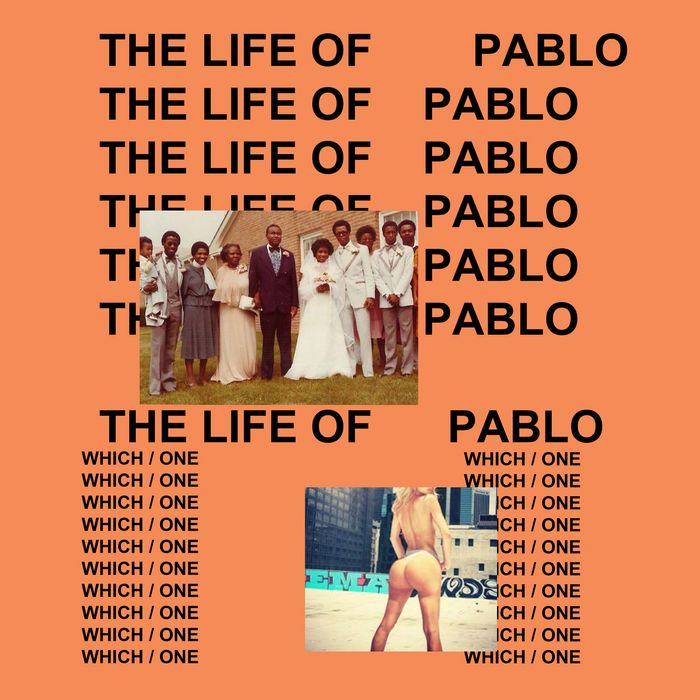 "What if Mary was in the club before she met Joseph?" Kanye West asks on his strange and sprawling seventh album, The Life of Pablo, which is, throughout, an audacious commingling of the sacred and the profane. Or at least I think he still asks that question on The Life of Pablo, but at press time, who can be sure. That line comes from the latest version of a stark, eerie song called "Wolves," which West first debuted a year ago at a fashion show for his Yeezy 750 Boost sneaker, and back then, "Wolves" featured guest vocals from Sia and Vic Mensa. For the Pablo version, though, he's made a last-minute switch and replaced Sia with the avant-garde composer Caroline Shaw, and Mensa with the reclusive (and sorely missed) R&B singer Frank Ocean. But even after the album's exclusive release to the streaming platform Tidal in the early hours of February 14, the track — and perhaps Pablo itself — still seems to be a work in progress. "ima fix wolves," West tweeted later that afternoon to his 19 million followers, even if it was unclear to anybody but him exactly what needed fixing. But this has been par for the course for Pablo, a piece of music in such a constant state of flux that it feels utterly anachronistic to call it an "album." It is not a slab of vinyl so much as a puff of the Cloud — or an auto-refreshing playlist, the concrete facts of its existence seeming to transform day by day based on the whims (and grandiose tweets) of its creator. The album "will never be for sale," West tweeted on February 15, and as you read this, who knows if that's still true. Pablo's paint is still wet — which makes the fact that it occasionally approaches the grandeur of a masterpiece that much more astounding.
Pablo now opens with a song initially intended to be its finale, "Ultralight Beam." This was the right choice; it belongs up front. As it stands now, it's the most stunning opening to any of West's albums, and the kind of song that makes Yeezy nonbelievers stop in their tracks and rethink what they know about this dizzyingly contradictory artist. West takes plenty of flak for being an egotist (and, to be fair, seems to delight in stoking that particular flame), but "Ultralight Beam" showcases his artistic generosity — he lets basically everyone else on this song steal his shine. A goose-bump-inducing gospel choir drowns out his mortal mumblings, R&B powerhouse Kelly Price belts a showstopping benediction, and then, right when you're expecting West to return and bring it all home, he lets 22-year-old Chance the Rapper shuffle in and deliver the most arresting verse on a Kanye record since Nicki Minaj decimated "Monster" back in 2010. It's a poignant moment, hip-hop past and present cross-fading into each other: West is graciously passing the baton to a gifted Chicago rapper almost half his age, and Chance is representing a generation of kids who learned to rap by memorizing every word of The College Dropout and then, eventually, adding their own flourishes. "This is my part, nobody else speak," Chance says as the beat cuts out. And because, contrary to conventional wisdom, West is not so deep into his own head that he can't appreciate promising young talent, the most outspoken celebrity of our time obeys this rookie's command.
Like much of Pablo, the sound of "Ultralight Beam" is so sparse, it's almost skeletal. At the time of its release, West's previous album, 2013's Yeezus, felt boldly minimalist in its production, but Pablo makes it seem baroque. Samples drop out abruptly, ideas are discarded mid-song, and most of these tracks vibrate with the phantom energy of layers deleted toward the end of their creation. The resulting aesthetic is loose, haunting, ghostly. Take, for example, one of Pablo's most sublime songs, "Famous," which in a previous incarnation was called "Nina Chop" because it's built around a hacked-up sample of Nina Simone singing "Do What You Gotta Do." On the finished ("finished"?) product, Rihanna sings Simone's words over a mournful church organ, and West frequently interrupts her elegiac vibe with some exuberant rapping, which in turn is punctuated by Swizz Beatz's hype-man interjections ("One thing you can't do is … stop us now!"). Each one of these people seems to be inhabiting a different song, and yet something about the overlay is inexplicably gorgeous. Same goes for the ending: Rihanna's vocals drop out and give way to the Nina Simone sample — another one of Pablo's stirring, conceptually provocative dissolves from present to past.
And yet "Famous" will always be marred by the fact that it contains Pablo's most controversial, grinningly stupid lyric: "I bet me and Taylor [Swift] might still have sex / Why? I made that bitch famous." But this sort of thing, to paraphrase from the goofy interlude "I Love Kanye," is so Kanye. Like that image of the Virgin Mother ordering bottle service at the club, The Life of Pablo finds Ye at both his most sophomoric and his most exalted. We are talking about a record that follows an appearance from the gospel singer Kirk Franklin with, not even a minute later, a joke about a model bleaching her asshole. And yet, dare I say that these jump-cuts from heaven to hell are precisely what makes this record so fascinating, so puzzlingly powerful? The Life of Pablo is a dick scrawled on the wall of a Vatican bathroom stall. Sacrilegious? Sure! But at the same time, he could have gone anywhere in the world on vacation. Leave it to Kanye — the frowning prankster of the rap game, if not the entire world of art and entertainment and modern celebrity — to choose the holiest land to desecrate.
Yes, this album is too long. And no, it still doesn't feel entirely right to call it an "album"; it's something less cohesive and more of-the-moment, for which we maybe don't have a word yet. West is still at least one step ahead of everybody in the game, and perhaps his most impressive contraction is the way in which he inhabits the hypermainstream and the avant-garde simultaneously; that we will see him creating an amorphous rap song based around a mournful Arthur Russell sample ("30 Hours") on an upcoming episode of Keeping Up With the Kardashians does not seem out of the realm of cultural possibility.
As a collection of music he's put together in our fatiguing world of overshares and daily status updates, The Life of Pablo has given us an unprecedentedly direct glimpse into Kanye's head — which is not always a fun place to be. There's absolutely something noble about his endless tweaks to this piece of work, the many title changes and track-list swaps, inching ever closer to his idea of perfection. We need more artists who care this much about their vision, and it's been enthralling to watch it come together in real time. But the album-as-eternal-work-in-progress poses its own kind of dangers, too. In the end, maybe The Life of Pablo isn't an album so much as a publicly broadcast quest to make a perfect album, a Sisyphean task that runs the risk of never ending. Imperfect as it is, Pablo's riches are more than enough to satiate us for a long time. Now, in the words of one of his elders, on to the next one.
*This article appears in the February 22, 2016 issue of New York Magazine.