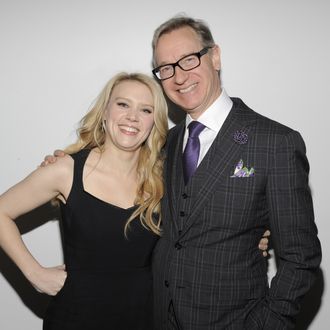 Feig and McKinnon at the Athena Film Festival.
Photo: Matthew Eisman/2016 Getty Images
At the Athena Film Festival last night, Kate McKinnon, of Saturday Night Live fame, presented her Ghostbusters director Paul Feig with the festival's inaugural Leading Man Award, honoring the director for promoting the success of women through films like Bridesmaids, Spy, and The Heat. In her introduction of Feig, McKinnon emphasized how he had avoided Hollywood's typical methods of depicting women on film. For her, that choice could be as simple, and as powerful, as the director's decision to put the four leading women in Ghostbusters in "ugly" jumpsuits, similar to those of the four male heroes in the original. (Those outfits, by the way, have already been memorialized in doll and Lego form.)
We filmed [Ghostbusters] in Boston over the summer and the best part of the summer was getting to wear a jumpsuit. I wore pants the whole time and my hair was up the whole time. Not one hair on my neck … It sounds like a small thing that I got to wear pants and have my hair up, but it's actually a really big thing because we were playing scientists. Women playing scientists wearing jumpsuits, kind of ugly jumpsuits. And they made dolls of this! That has never happened! … No cleavage. Dolls. And while we were filming, Paul would sometimes release pictures of how things were going, the costumes or whatever. And we'd get a wonderful email from him whenever someone would tweet back a picture of their daughter rocking a Ghostbusters jumpsuit and a proton pack, which happened a lot. It's sweet and it's cute but it's also actually quite new and quite huge. This morning, I Googled 'girls Halloween costume,' and I can tell you with scientific certainty that those jumpsuits will be the only girls' Halloween costumes available this October that include pants. Paul has let women be tough cops, CIA operatives, and lovable drunken flailing losers. But Paul's heartfelt and hilarious films have no political agenda … His true subversion lies in creating female protagonists who are striving for the universal goals of friendship, connectedness, justice, and personal growth. These golden fleeces have always been the sole province of male protagonists. They don't call it an everyman for nothing. By building stories around female protagonists who are striving not for romance but simply to become their best selves, he has permanently changed the game for us all.
McKinnon started to tear up at the end of her speech. Her close bond with the former Bridesmaids director was on display elsewhere at the event as well, such as when she thanked Feig for giving her a chance to be in Ghostbusters in the first place. "I don't feel like I could play a regular gal in a rom-com," she told Feig. "I wanted to be a woman in a business suit or in jumpsuits who's a real character. I read a lot of scripts. It's just not there. People are not writing women that are anything other than just normal cute women."
But as much as Feig is a pioneer, he still recognizes how much more there is to be done. Feig said that films often depict "a little boy's image of women," with female characters played by funny actresses who, instead of telling jokes, end up having to be scolds or shrews. "My focus has always been on women in front of the camera, but now I want to get women behind the camera, and really start to get that going," Feig said. "There's so many talented female directors and they'll do one hit movie and one follow-up that's bad and suddenly they're in movie jail. Whereas guys will get broken out of movie jail, or have more shots. Women are 50 percent of the world. It should be reflected behind the camera."
Feig cited the work of Katie Dippold, Tricia McAlpin, and Paula Pell, among other female filmmakers he had worked with and wanted to continue to make films with. "There's no conspiracy in Hollywood that I've ever found," he said. "It's the banality of evil. People don't think about it, that's the problem. So now the focus is making people think about it. We're trying to crack the wall."
Additional reporting by Jackson McHenry.