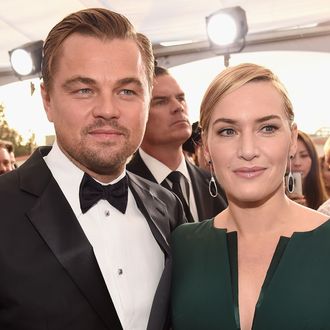 True platonic love.
Photo: Kevin Mazur/Getty Images
Sorry, #OscarsSoWhite, but your fight for equal representation at the Academy's annual dog-and-pony show will have to wait another year when Leonardo DiCaprio isn't the favorite to win before Kate Winslet can get her activist on. At Tuesday night's London premiere of her new film, Triple 9, she confirmed that she wouldn't miss this year's Oscars for the world — not because she's a nominee, but because, like she's been predicting all along, this is her soul mate Leo's year! "To be honest with you, it has been such an extraordinary year for women, I'd feel like I was letting my side down if I didn't go," she told the BBC. "And also I feel very strongly that it may possibly be Leo's year. And he is my closest friend in the world and I just couldn't imagine not being there to support him."
Awwwww. But at this point, Kate kind of owes him. How many times has Leo sat and watched with tears of envy welling up in his eyes as she showered him with love at the podium, statue in hand? Kate's right: Her support is mandatory. And to be more honest, even if Leo were guaranteed another snub, who's to say Kate wouldn't find boycotting the Oscars in the name of racial equality just as vulgar as talking about the pay gap? Shrug.