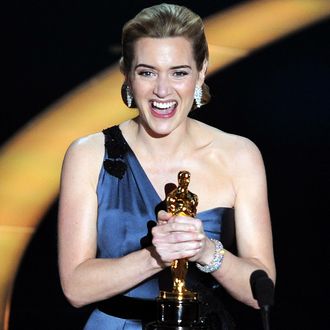 Ah, remember when?
Photo: Gabriel Bouys/AFP/Getty Images
Kate Winslet is nominated for her seventh Academy Award, but her 12-year-old son Joe would be more psyched if she were nominated for a Tony (she's not). Winslet, after all, is three-fourths of her way to a coveted EGOT: She has an Emmy for Mildred Pierce, a Grammy for Listen to the Storyteller (Best Spoken-Word Album for Children — you're welcome), and an Oscar for The Reader. (She just has an EGO, ha ha.) Does she have designs to get that Tony? "Well, I suppose it probably is now. And that's more because of my 12-year-old son Joe, who … is just obsessed with records," Winslet told Reuters. "So since he has learnt about this 'EGOT' thing, he's like, 'Mum you've gotta do it.'" You've got to do it, Mummy! For the children!

Perhaps she could do it by playing a Brit? "I do also keep trying to play an English person but that just doesn't keep happening for me at the moment," Winslet said."That would be the ultimate challenge and then I'd have no dialect coach at all. No one to have my back and I would be all by myself and probably more terrified than ever before. Wouldn't that be novel?" Isn't there a Harold Pinter play that needs reviving?