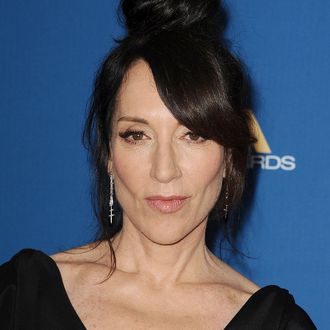 Katey Sagal as the voice of "house" in Smart House.
Photo: Jason LaVeris/Getty Images
Katey Sagal is about to make a return to comedy in a new pilot for CBS. According to Deadline, the pilot is based on the Australian series Upper Middle Bogan, "about a wife and mother who learns she was adopted and that her birth parents are a flamboyant but loving family of drag-racers." Sagal will play the matriarch of the family. Its been a while since Sagal has done a half-hour sitcom, but she's had a lot of practice playing the mom in comedies, including both Married With Children and 8 Simple Rules. Oh, and she's also accustomed to playing houses, as she played a house in the Disney Channel original movie Smart House, a fact that is irrelevant here, but keep in mind: She was a very smart house. Written by Dan O'Shannon, Robyn Butler, and Dan Hope, the pilot will also star Swoosie Kurtz and John Carroll Lynch.