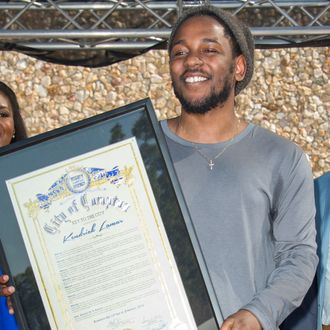 Kendrick Lamar.
Photo: VALERIE MACON
In a moving ceremony yesterday, hometown hero Kendrick Lamar received the key to the city of Compton. Lamar, who has been outspoken about his roots and frequently references Compton in his music, was given the award by Mayor Aja Brown. "Kendrick Lamar is a phenomenal artist whose work has served as a catalyst to raise a new level of consciousness for this generation," Brown said. "His message challenges the status quo and motivates listeners to rethink our society's institutions." Brown also joked that Compton's key is "better than Drake's key," siding with President Obama on this key issue. During his acceptance speech, Lamar talked about his childhood in Compton and how much he learned from the spirit of the people around him. "It means strength," he said of the city.
You can watch the full ceremony on Periscope.