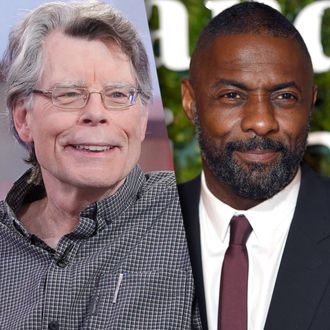 Please, please, please make it real.
Photo: Getty Images
News about that long-gestating adaptation of Stephen King's Dark Tower books might as well be written in High Speech, the ancient language of Mid-World, given how obtuse each report item ends up being. The adaptation, originally pitched as an epic TV-film hybrid (think of the Marvel Cinematic Universe, with its blend of blockbusters and projects like Agents of S.H.I.E.L.D.), was announced in 2012. It stalled. It came back, this time with Sony taking the lead. Matthew McConaughey considered playing the villain; Idris Elba, the hero. Now King himself has commented on the project and confirmed those previous rumors. "I think that it's more likely than not that Idris Elba and Matthew McConaughey will be in it," King told Rolling Stone. "But I can't say with any certainty. I know that they're trying to make deals with these actors [and] with Sony, and that's the extent of my knowledge."
Though, as with any talk of the project, King hedged his bets. "It looks to me like it's more likely than not it'll happen at this point," he said. "Let's put it that way." Translation from High Speech: Shruggie.