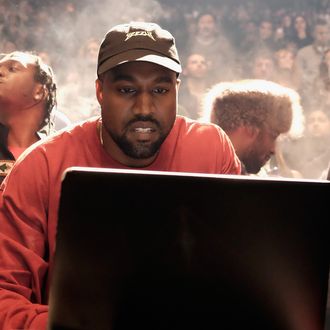 Call him Kanye Wet, because he's been screwed by a Tidal wave.
Photo: Dimitrios Kambouris/Getty Images
Just like its name suggests, Tidal giveth, and Tidal taketh away. One very precious thing that Tidal can take away in particular is a high debut ranking on the Billboard album charts for its A-list owners: The music service doesn't always release streaming numbers for its exclusives to Nielsen, which means that some artists — to belabor the water metaphor — can flush all those streams down the drain. Rihanna learned this lesson a few weeks ago, when Anti debuted at No. 27 (with extenuating circumstances), and now Kanye West has, too: The rapper's Life of Pablo failed to chart on the Billboard 200 in the first week of its release. You might think that would make Kanye mad, but a source close to the situation says that's all by design: Since the album is still technically a work in progress, Kanye doesn't want it to chart until it's officially finished.
Singles-wise, it turns out Rihanna and Drake didn't even need a video to top the Hot 100: "Work" rose to No. 1 this week on the strength of sales and audio streams before its two music videos were released. The song becomes Rihanna's 14th No. 1 single, breaking her tie with Michael Jackson for the third-most chart-toppers in history. (Only the Beatles and Mariah Carey stand above her.) Drake, meanwhile, lands his second No. 1, after his first collaboration with Rihanna, "What's My Name," but Aubrey's still waiting for that first No. 1 as a lead artist. Poor guy — always the grindee, never the grinder.