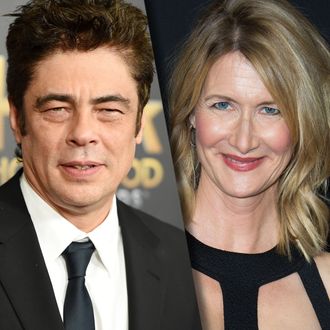 Okay, so how are they related to the Skywalkers?
Photo: Getty Images
In a moment of unparalleled human achievement meant to make (let's be honest, gay) fans of Star Wars gape like Laura Dern when she first discovers dinosaurs in Jurassic Park, Disney has announced that Laura Dern is joining the cast of Star Wars: Episode VIII. Will she continue her coolest-of-cool-moms streak (see Wild and The Fault in Our Stars) and play Rey's mom? Will she use her new-age skills from Enlightened to get in touch with the Force? Does it matter? Laura Dern! Joining Dern are Benicio Del Toro, who was previously rumored to play the villain (get ready for a mumbling contest with Adam Driver), and newcomer Kelly Marie Tran, who has done various small TV roles and CollegeHumor shorts. Episode VIII will also bring back all of your old friends: Mark Hamill, Carrie Fisher, Adam Driver, Daisy Ridley, John Boyega, Oscar Isaac, Lupita Nyong'o, Domhnall Gleeson, Anthony Daniels, Gwendoline Christie, and Andy Serkis. (So no Harrison Ford, sadly.)
Disney released a teaser for the new episode, which is written and directed by Rian Johnson (Looper). You will finally get to see Laura Dern in space on December 15, 2017.