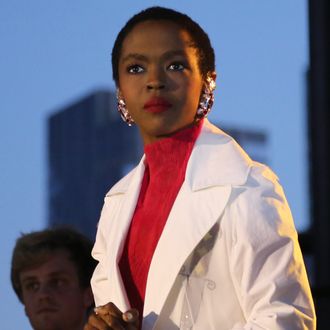 What could have been.
Photo: Cynthia Edorh/Getty Images
If you followed the rumors leading into the 2016 Grammys, you might've seen a photo floating around of the Weeknd rehearsing for his Grammys performance. There was nothing out of the ordinary — except he was rehearsing with Lauryn Hill! The rare sighting, coupled with reports on Twitter, prompted many to assume they'd share a duet at the Grammys. But by the time the Weeknd's time on stage was up, Hill was a no-show. Her reps immediately backtracked on the earlier rehearsal photos, telling Billboard that Lauryn was never confirmed to appear at the Grammys: "The Grammy's announced a performance by Ms. Lauryn Hill prematurely and without approval. Ms. Hill had concerts all weekend, leaving no time to prepare, and was uncertain she would even be able to make it to LA in time to rehearse for the event. Any performance that could have happened was never confirmed, and should not have been advertised as such. Ms. Hill was invited to do a collaboration with an artist she appreciates. The performance was intended to be a surprise and unfortunately due to its last minute nature, was unable to come to fruition." (The Grammys deny announcing Hill's performance.)
However, according to the Grammys, Hill did indeed show up for rehearsals; the notoriously tardy singer just wasn't on time for the actual show. "[Hill] showed up during rehearsals, but arrived too late for the performance," a rep for the Grammys tells TV Line. But when you're one of two hip-hop artists to ever win Album of the Year, everyone else is just early.
Update: The National Academy of Recording Arts and Sciences president Neil Portnow has confirmed backstage at the Grammys that Lauryn Hill was due for a surprise performance of "In the Night" with the Weeknd but did not show up on time. Portnow says Hill attended dress rehearsal on Sunday morning but missed performing live with the Weeknd, whom Portnow says was ready for her up until the moment the Weeknd got onstage. He says the Weeknd personally invited Hill to be part of his Grammy performance.
Additional reporting by Kelly Marino.